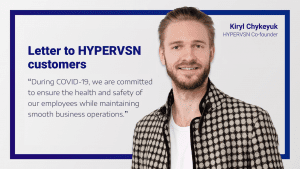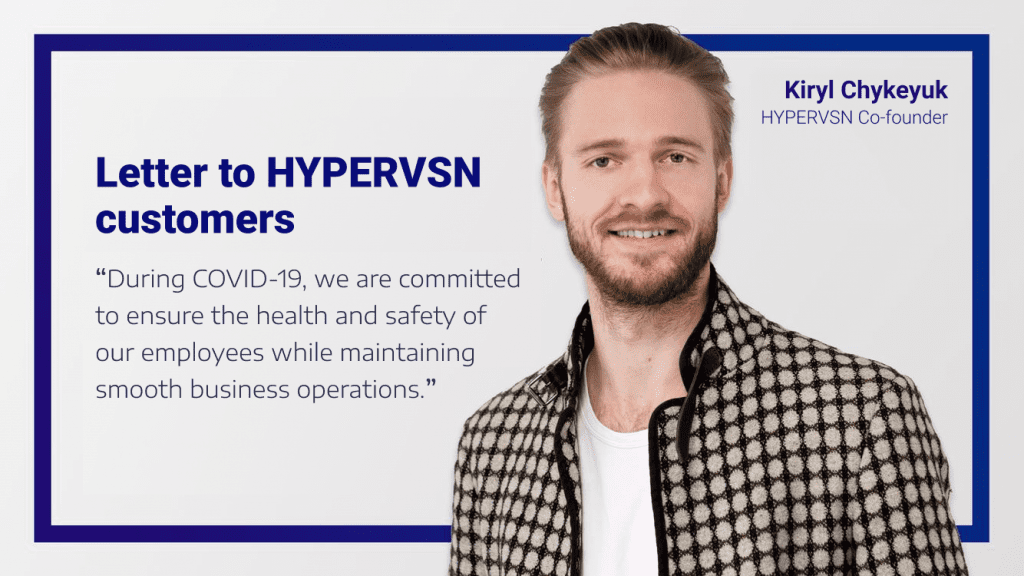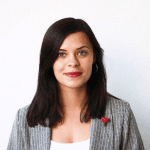 Darya Krakovyak
Communications & Events
Response to COVID-19: letter to HYPERVSN customers
17 March 2020 • 5 min read
Please note: this page will be updated regularly as the situation evolves.
COVID-19 has been confirmed as a global pandemic by the World Health Organization (WHO) and it continues to spread across the world at a rapid pace.
HYPERVSN keeps closely monitoring the latest updates on the virus, both locally from the UK Department of Health & Social Care and internationally from the WHO.
Free COVID-19 Content – Spread the message not the virus
At HYPERVSN, we believe that the right information in the right place can save lives. Especially when that information is displayed in a way that people simply can't ignore.
That's why we have developed brand new Lockdown content that displays health & safety messaging to slow down the spread of COVID-19 in 3D. All our content is based on public safety recommendations from the WHO and features the global #StayHome hashtag.
This content has already been added to all our existing customers' content libraries at no extra charge, and If you too would like to use our Lockdown content and join the fight against COVID-19 by sharing this life-saving content with the world, follow these 3 easy steps:
Visit this page
Fill in the request form
Check your email
Together we can beat this virus, but only if we all play our part. To ensure that even more people are spreading the vital safety messages in our COVID-19 content, we introduced Back to Business solutions, that include innovative holographic doctors which educate the public about social distancing for health centres and hospitals, available both for Solo and Wall installations.
Partner updates
HYPERVSN partners around the world joined in the fight against COVID-19. Below is a great example from our partner OPTIO in Slovakia, showing how two major hospitals in Bratislava decided to recognize the healthcare heroes in a magically holographic way. On the last day of corona restrictions, they installed HYPERVSN Solo and Wall units displaying customized content – the feedback they got from the hospital employees was completely amazing!
Content production
The in-house Design Lab at HYPERVSN now has the capability for content requests which go beyond producing 3D content just for HYPERVSN. It's worked with our other clients such as the AV Awards, Walmart, Nike, Audi, Louis Vuitton, Coca-Cola and UNICEF, and its expertise is suited to 3D animations, motion graphics, video effects, commercials and more.
Their entire portfolio can be seen here and on their Instagram. To contact the Lab with your own unique content requests, simply email [email protected].
Podcast launch
During Lockdown, people really started listening to podcasts. So we got with the times and created our own channel, the HYPE. With two of our best at the microphones, we give listeners an exciting look into the incredible world of 3D visual marketing.
General company updates
Starting from March 17, 2020 our employees switched to working from home. We also suspended business travel and strongly discouraged personal travel.
We are committed to ensuring the health and safety of our employees, while maintaining smooth business operations and delivering high-quality products and services to our clients.
1 – Communication
Now is the perfect time to plan your post Lockdown events and upcoming offline activations – the HYPERVSN Sales, Projects and Design Lab teams are all still here and excited to help you bring your ideas to life. Let's come back stronger than ever!
Please feel free to send your requests to [email protected] or leave a comment in our LiveChat messenger (you'll find it in the bottom right corner of this page). One of our team members will be able to get in touch with you shortly.
The HYPERVSN Support team remains available 24/7 to address any of your product activation or assembly questions. Just email [email protected].
Please note that in the upcoming weeks, we are not available on the following office number: +44 (0) 208-0685-32
2 – Product demos
Naturally, there are no offline events or demos planned for the next couple of weeks.
Instead, please refer to our YouTube channel to see HYPERVSN in action.
You can also upload the photos of your office space, store etc. to the online HYPERVSN Viewer tool to see how our solution can fit into your environment and boost your business.
3 – Shipments
Flex, our production facility, and our other service centers have continued their business as usual. Therefore, we do not anticipate any delay in delivering our products and spare parts internationally.
Should anything change, we will keep you updated both on the HYPERVSN blog and our social media channels.
Stay safe, healthy and informed – we are all in this together.
Kiryl Chykeyuk
HYPERVSN Co-founder
Join our mailing list to keep up with the latest HYPERVSN news
Download cheat sheet call to action here
Vel maecenas venenatis pulvinar ipsum vitae.
4 Item in cart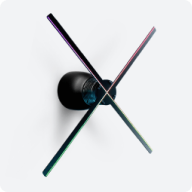 HYPERVSN 3D Catalog
USD 1,200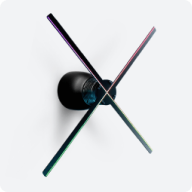 HYPERVSN 3D Catalog
USD 1,200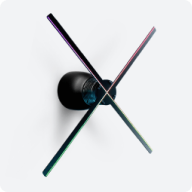 HYPERVSN 3D Catalog
USD 1,200