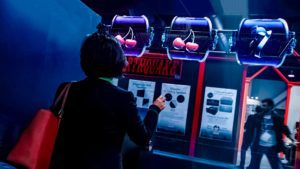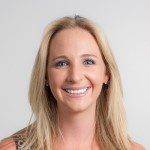 Christy Weeks
Brand Manager
HYPERVSN Slots: An interactive solution to skyrocket customer engagement
03 March 2021 • 3 min read
Meet an all-in-one interactive solution to skyrocket customer engagement — the world's first 3D holographic slot machine. Learn how HYPERVSN Slots solution can be used, how it draws huge crowds and creates the ultimate brand experience.
HYPERVSN Slots is the world's first 3D holographic machine, and is the interactive solution to skyrocket your customer engagement. Can you imagine a brand experience where the audience controls the 3D content spinning on the Slot machine, simply by pulling a lever or pushing a button? There's nothing like the anticipation of winning while interacting with a holographic slot machine!
What is HYPERVSN Slots used for exactly?
HYPERVSN Slots is the ultimate excitement generator; with heightened emotions your audience is more likely to create positive associations with your brand, creating that all important customer advocacy. Deloitte has identified the top global marketing trends for 2021 and Human Experience is one of the most important. This means brands need to focus on the human connection rather than "speed-to-market", and as HYPERVSN Slots is all about connecting with your audience and creating an emotional response, it makes it the perfect marketing solution for 2021.
How does HYPERVSN Slots increases audience metrics?
A human-centric solution that provides a positive experience for your customers, HYPERVSN Slots ensures that with this positive experience comes positive results. An engaged audience spends more time processing the message they are receiving, meaning dwell time is increased, message retention goes up and your marketing campaign is vastly more effective. Creating "Brand Love" is increasingly important in 2021 where brand loyalty is at all-time high. If you focus on the customer and bring them satisfaction and happiness, you will have a customer for life.
Where can HYPERVSN Slots be used?
The HYPERVSN Slots draws a crowd easily and can even generate queues! This solution is perfect for any event, storefront or showroom, giving you the ability to surprise and delight your audience with this holographic gaming solution. When HYPERVSN Slots made its debut in Las Vegas at CES, there was a line of people queuing around the booth on all 4 days of the event!
How can HYPERVSN Slots help my brand?
A 3D holographic Slot machine is perfect for any kind of brand activation in a public space, so get ready for your next big campaign as people are itching to get out again. Our partner Holovision installed HYPERVSN Slots in the middle of the Tbilisi Mall in Georgia and brought Crocobet's online casino to life, showing how HYPERVSN tech brings the virtual into reality! It's a great way to create 3D visuals of products and tell your brand story in an emotive and powerful way. HYPERVSN Slots is not only ideal for casinos, gaming or amusement parks but can be used for any product, store or office environment.
Can you give me an example of a good use case of HYPERVSN Slots?
Noodle.ai used the holographic slot machine at the Gartner Supply Chain Executive Conference in Arizona in 2019; they were looking for an innovative technology to generate excitement and heighten audience engagement. The HYPERVSN Slots solution was customised with relevant content and really made their brand stand out from the crowd, leading Noodle.ai to highly recommended HYPERVSN Slots for creating hype and audience engagement for any brand.
How can HYPERVSN Slots be used in the post-COVID retail market?
This past year has been tough. Product launches have been rescheduled or only happened online, events have been cancelled and sporting events have had no crowds. However, the world is beginning to open up again, and it's time to start planning your big reveal. You could bring innovation to your launch or store re-opening, and have the world's first 3D Slot machine, and even order custom 3D content for your brand with the help of the HYPERVSN Design Lab. Consider launching a new car and using the logo as the winning slot machine combination; Imagine getting the Audi rings in a row – it is like hitting the holographic jackpot! Or three Nike trainers to get 50% discount. The excitement is tangible, and the options are endless!
Would I have full control over the settings like the number of wins?
As a brand manager or product owner you might be wondering how this all works. When you purchase HYPERVSN Slots you can set up the winning combination, the probability of the wins and set a limit of the number of wins. This means you can adapt the solution to meet your needs. To put in simply, if you want people to win a bottle of Coca-Cola every few minutes or if you want there to only be one winner of a top-dollar holiday package, this can all be programmed.
What is included in the HYPERVSN Slots solution?
HYPERVSN Slots is now available for purchase, and it comes with:
3 Solo devices
The trigger / button
The software service
Standard 3D slot machine content
You can install the Slot machine directly on a wall or additionally use HYPERVSN accessories for extra versatility. You could use a tripod, ceiling mount and Protective Dome depending on the installation environment.
If you're interested in gamification or want to read more on the next trends in Holography visit our blog. If you want to learn more about this incredible product visit the HYPERVSN Slots webpage.
Join our mailing list to keep up with the latest HYPERVSN news
Download cheat sheet call to action here
Vel maecenas venenatis pulvinar ipsum vitae.
4 Item in cart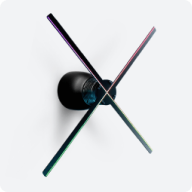 HYPERVSN 3D Catalog
USD 1,200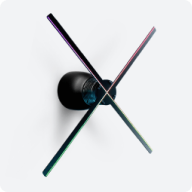 HYPERVSN 3D Catalog
USD 1,200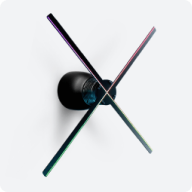 HYPERVSN 3D Catalog
USD 1,200