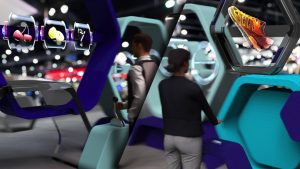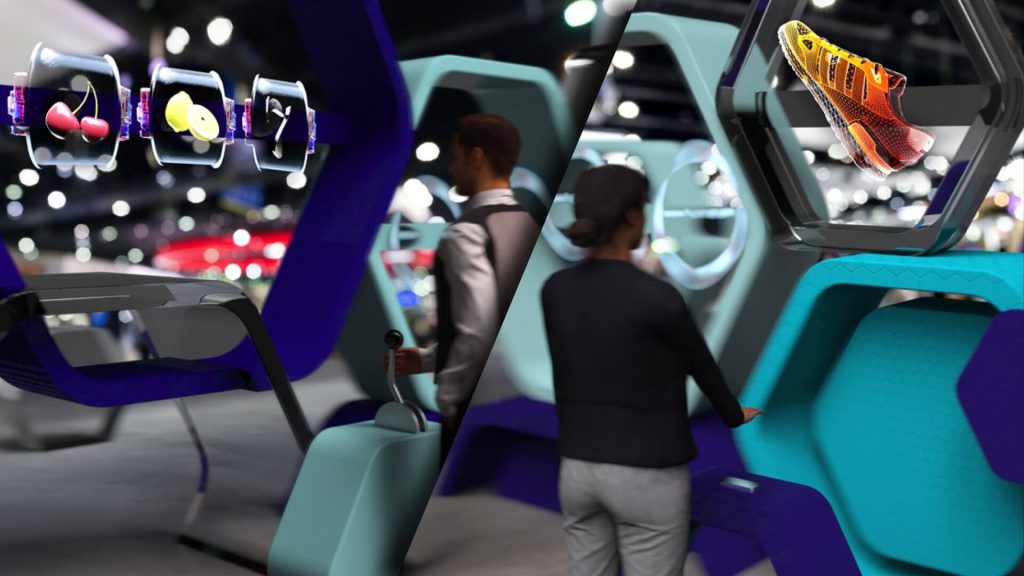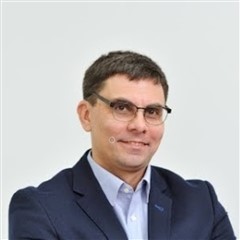 Dmitry Shatkov
Ecommerce Manager
HYPERVSN Interactive Holographic Visuals – the Latest Trend in Holography
18 September 2020 • 7 min read
The start of human-computer interactions and user interfaces all started in 1837 with the invention of the QWERTY keyboard. Originally invented for typewriters, the layout has remained almost unchanged for 183 years!
The keyboard (as the first data input tool) was later followed by multiple HCI (human-computer interaction) devices, including trackballs, joysticks, multi-touch screens, smartwatches, gesture and voice recognition interfaces, exoskeletons, etc.
Today interactive technologies have become an integral part of our daily lives. Just think of all the digital tools that you use when you work, study and have fun. We can't even begin to think about modern technology without interactive tech.
Why is interactivity so important?
Interactive advertising or interactive promotions have the power to create extraordinary experiences and connect with consumers on a completely different level. By interacting directly with a brand's offering, users are able to find individual value in promoted products.
Customers are now beginning to understand that they can manage the ways products are created and sold. Establishing strong communication between customers and the producers of these products adds even more value to the offering and creates a steady demand.
From traditional quizzes to virtual and augmented reality, interactive advertising is actively used by some of the biggest brands in the world, including IKEA, Lego, Coca-Cola, McDonald's, Volkswagen, Nescafe', Samsung, Amstel, Netflix, Google, Reebok, Domino's Pizza, Spotify, New York Times, Peugeot, and many more.
Interactive holographic visuals for work and play
The first interactive HYPERVSN solutions were publicly showcased at CES 2019 – HYPERVSN 3D Catalog and HYPERVSN Slots, the world's first interactive 3D holographic slot machine. Both offers made a real splash and were constantly surrounded by amazed crowds.
One year later we brought even more holographic fun to CES with interactive 3D gaming, customizable holographic portraits and our 3D Modeler that allows users to control holographic visuals floating in mid-air with their bare hands.
3D Catalog
Holographic 3D Catalogs are the next generation of product visualization. Using 3D Catalog users are able to swipe through various 3D holographic products with a single hand movement.
Used in retail stores and public showrooms, 3D Catalog allows customers to conveniently choose amongst their favorite clothing, shoes, accessories, bags, jewelry and other product collections. This way of bringing offerings to life through 3D catalog browsing is a fantastic chance to attract new customers, increase sales and generate a real buzz.
Russian Copper Company use case
The Russian Copper Company used HYPERVSN 3D Catalog to attract attention to their booth and managed to become the most popular stand at the show. The guests were thrilled to be able to swipe through products and other images displayed on the HYPERVSN Wall with only one hand movement.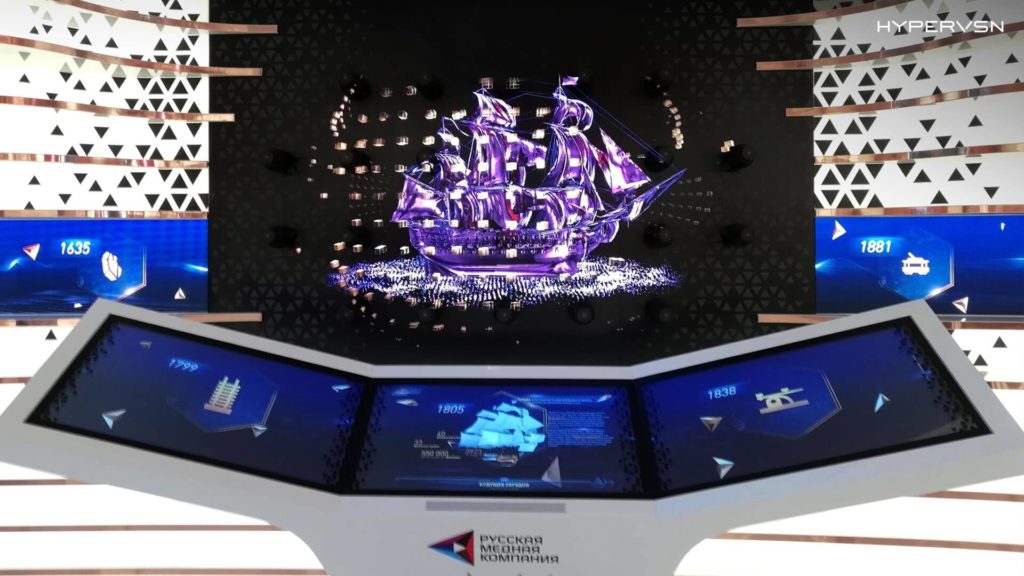 Holographic slot machine
HYPERVSN 3D holographic visuals create an unforgettable WOW effect, which is understandably perfect for entertainment and game industries. But, as the use cases from our customers reveal, the same installations are just as effective at trade shows and exhibitions.
Noodle.ai at the Gartner Supply Chain conference
As Gail Moody-Byrd, Noodle.ai CMO says, "HYPERVSN is perfect when you want to create hype and do something extraordinary".
Crocobet in Tbilisi Mall
The use case below demonstrates how Crocobet (an online gambling platform) used HYPERVSN Slots to draw attention to their brand in the Tbilisi Mall, Georgia.
This one-month promotional campaign (supported by our partner Holovision Georgia) was a real success and positioned Crocobet as an online casino with innovative ideas and cutting-edge solutions.
G2 Esports at The Player's Tribune, NY
Adding on-the-spot prizes like T-shirts, branded bags and ESL (Electronic Sports League) tickets bring even more fun and excitement to HYPERVSN Slots. This was demonstrated by the promotional campaign run by G2 Esports, one of the top five most successful esports clubs in the world.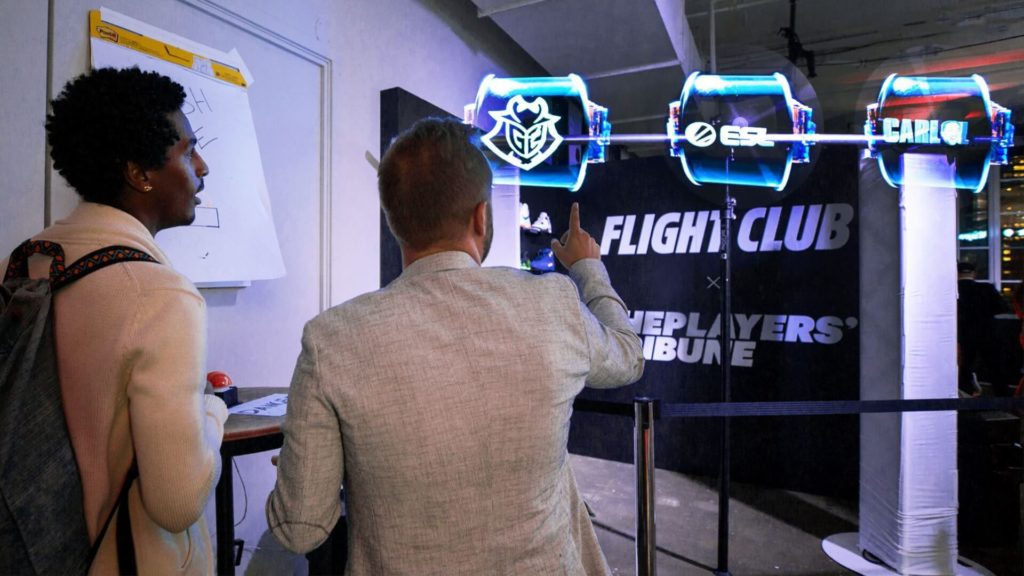 2020 starts with interactive holographic visuals
This year we set out to steal the show at CES again! We showcased our new interactive holographic solutions, introduced 3D gaming and promoted our brand-new HyperFaces (holographic portraits) and 3D Modeler to control stunning 3D visuals floating in mid-air.
Holographic gaming
Taking on the form of the most iconic puzzle game, the HYPERVSN technology allowed visitors to enter a whole new world of 3D fun without needing to use any inconvenient headsets.
HyperFaces
Real-time 3D portraits of people's faces became a reality with our HyperFaces solution. This format of interactive holographic visuals is especially popular among young people who love the way they can put on a virtual mask and become different character types.
3D Modeler
3D Modeler can help customers fully understand complicated offerings by allowing them to decompose holographic objects in one hand gesture. Imagine a human heart or combustion engine floating in mid-air before your eyes that you can actually interact with. You don't have to be Tony Stark to enjoy this kind of technology!
Not only is 3D Modeler a great way for audiences to have some fun, but it's also extremely valuable for businesses and science. Schools, hospitals and research centers can use it as a vivid visual aid for studies and consultations. Think of the possibilities!
The future of interactive holographic technology
The future has certainly arrived in style with HYPERVSN interactive technology. Right now it's impossible to think of every way to take advantage of this phenomenon, but let's try:
Interactive menus installed in cafes and bars;
Interactive maps used for weather forecasts;
Interactive presentations displayed during business meetings;
Custom 3D equalizers spotlighted in night clubs;
3D object modeling used for engineering;
Interactive schedules available at train stations and airports;
And many more to come…
Whatever the future of interactive holographic visuals holds, we know it's going to be amazing and we choose to be at the forefront of this adventure!
Learn more and join the holographic future. Be among the first to win customers' attention with HYPERVSN interactive holographic technology.
Join our mailing list to keep up with the latest HYPERVSN news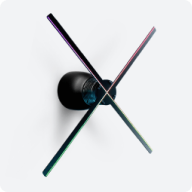 HYPERVSN 3D Catalog
USD 1,200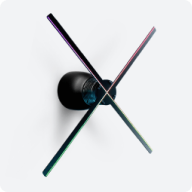 HYPERVSN 3D Catalog
USD 1,200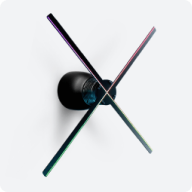 HYPERVSN 3D Catalog
USD 1,200