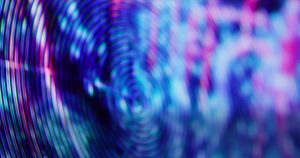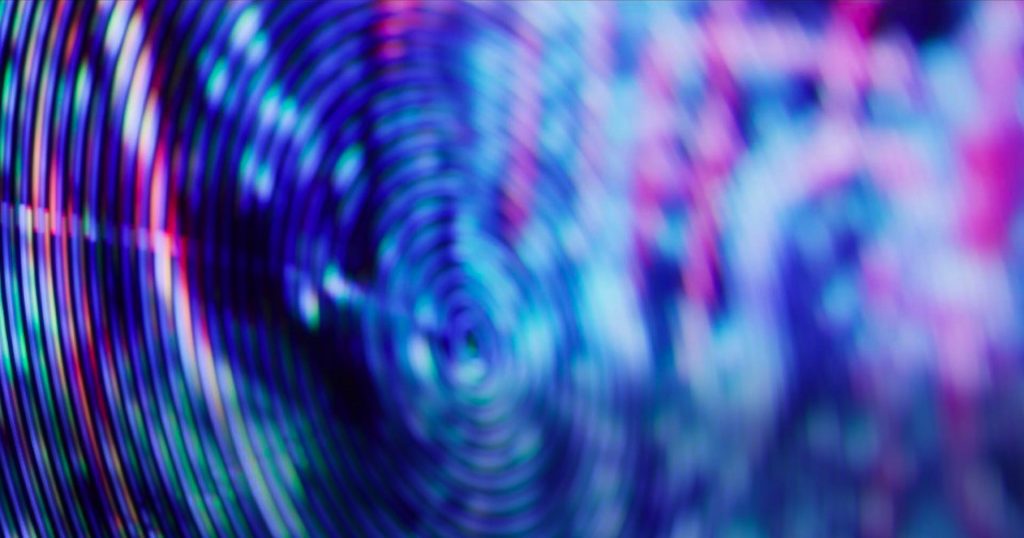 6 Benefits of the HYPERVSN Technology
When buying a 3D holographic display system, there are a few things you need to consider. The one question we get asked the most, is why companies shouldn't buy copy-cat technology or a cheap 3D hologram projector instead. We say to that, would you buy knockoff Dolce & Gabbana or Gucci instead of the real deal? Of course you wouldn't. The original, authentic brand is always the best, and HYPERVSN is not only the original modern leader in holographic display technology, but is also leading the way in terms of innovation within the hologram market.
So, is the original tech that much better than rip-off replicas? Don't just take our word for it, let's look at the facts.
Superior Image Quality
HYPERVSN has superior image quality, and an enhanced visual effect making our holographic visuals appear far more realistic. When you see both 2D and 3D visuals displayed on HYPERVSN displays, it looks like real objects floating in mid-air. This is thanks to the production quality and certified components used in all of our displays.
Manufacturing Standards
HYPERVSN products are manufactured at Flextronics in Europe and certified, meaning the highest quality standards must be adhered to. So, if you started looking at a 3D hologram pyramid or other types of hologram projectors for sale online, perhaps it is time to re-evaluate and assess what you're actually going to be getting for your money.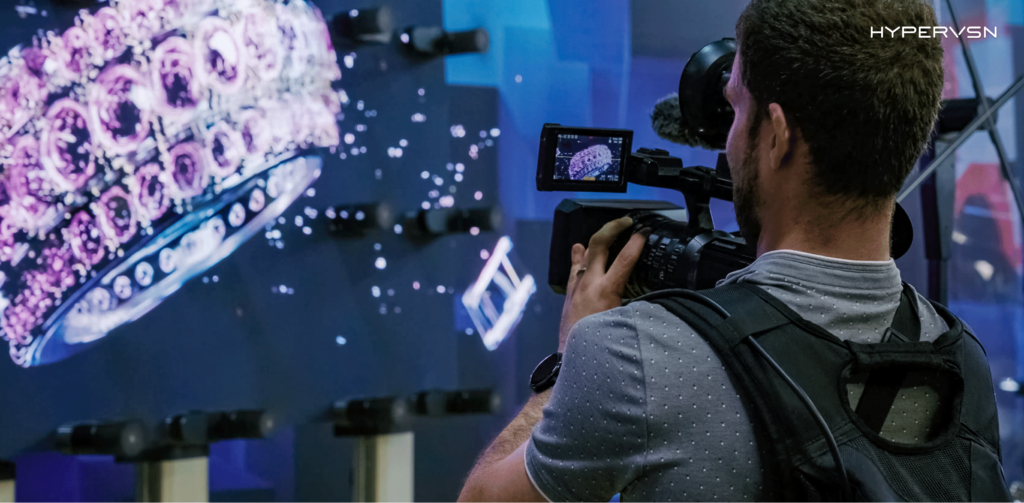 Let's talk technical specifications – these are what make the real difference.
5 reasons why our hologram technology outshines the rest
Higher resolution

With the latest HYPERVSN SmartV launch, the resolution became even higher, and can now display a resolution of 1080 X 1080 pixels. (Compared to 720 X 720 and 440 X 440 of other standard holographic projectors on the market).

Pixel processing

Due to the high resolution and cutting-edge technology, you never experience raw pixel processing with HYPERVSN. HYPERVSN SmartV, having an ultra-fine pixel pitch of up to 1.11, displays 2D and 3D content in immaculate detail. This level of detail allows for small text and images to be used, which would never be possible on a cheap LED fan display. This means that premium content with HD details can now be seen vividly.

16 million colors

HYPERVSN displays have no color distortion, so you can get picture-perfect color displays every time. Products, branding and logos can be matched to the exact brand palette you require, unlike the typical type of holographic display offered by other 3D display companies.

Astonishing brightness

Another key element when looking at hologram displays is Brightness. With the astonishing brightness of HYPERVSN SmartV display, which is up to 300 Nits, it allows for vivid, brilliant content and opens up numerous new applications. HYPERVSN displays can be used in areas with lots of light like stadiums, daylight displays like storefronts and even outdoor use. If you see a hologram installed outdoors, it's definitely HYPERVSN.

Longer lifespan

HYPERVSN displays are built with a guaranteed lifespan of 5 years. Other holographic fan display devices have been reported to have a lifespan as low as 6-7 months!

24/7 technical support

HYPERVSN offers 24-hour technical support. So, anyone who needs help with setup, installation or troubleshooting for both hardware and software can get assistance 24 hours a day.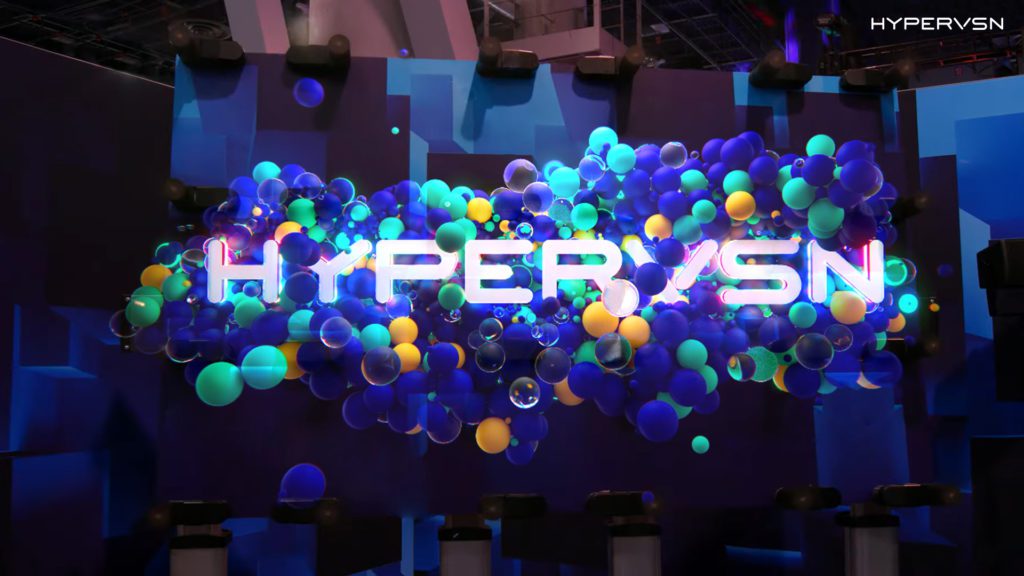 HYPERVSN Holographic Content Leads the Way
When it comes to hologram technology, Content is King. But there is a lot more to consider than just the content itself. The fundamental questions are about the cost, the ease of use and creation of 3D visuals. At HYPERVSN, we know the importance of content and therefore, have invested heavily into all aspects of content creation and management. Here are some things to consider…
Top 6 ways content takes center stage on our holographic display:
Easy content management

HYPERVSN is more than just a holographic display. It's a platform which gives users the ability to manage their content and the way it's displayed. The proprietary Software Suite allows for easy and secure display control and management, uploading and scheduling content, and all ongoing firmware updates.

Remote content management

HYPERVSN offers access to remote management, which allows users to plan and schedule media campaigns, manage their display remotely and get full analytics on their display. With cloud management, multiple displays in various locations can all be managed centrally.

Easy content creation

All HYPERVSN users have access to an online service called HYPERVSN 3D Studio. This allows for easy 3D content creation. With this service, anyone can create beautiful content in just a few clicks without any previous experience in animation.

Affordable 3D content

Creating your own content using our built-in content software will greatly decrease your ongoing expenses. Some may think that you need a Master's Degree in 3D animation to create any content worth viewing. With our proprietary software, anyone can produce powerful 3D content. Give it a try yourself!

Professional high-quality content

The content you create, or any other 2D and 3D content you use on the HYPERVSN display, will look breathtaking because of the technical specifications of the display. Currently, copy-cat displays provide poor video quality, where only very basic animations can be used.

Access to a wide media library

Included with every display is access to an amazing free media library with ready-made animations that can be used immediately. This includes classic seasonal content for Christmas, Halloween, Valentine's Day, etc. The library is constantly being updated with new animations to keep displays turning heads long after they are first purchased.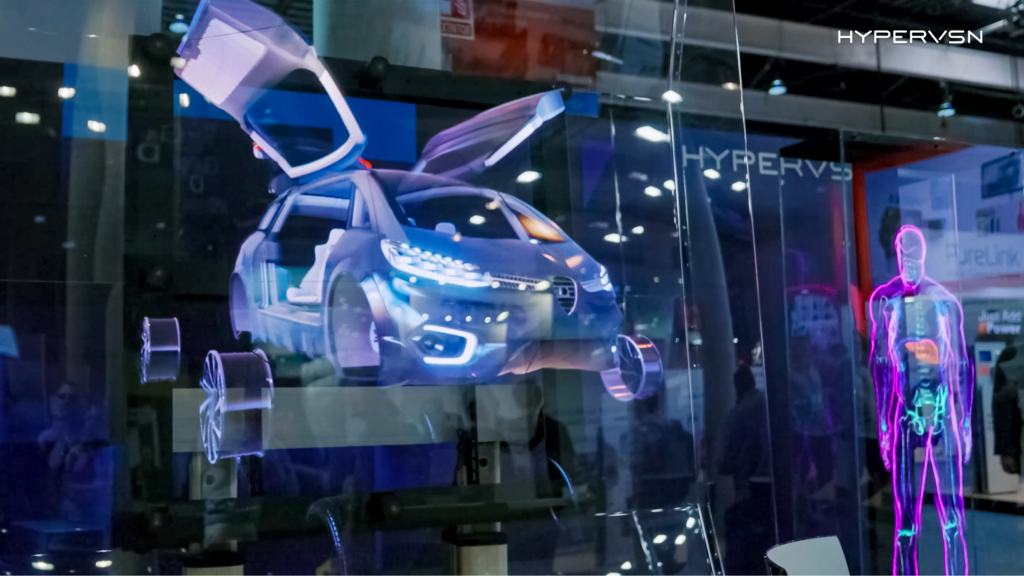 In today's holographic market, HYPERVSN is leagues ahead in terms of basic technical specifications. Our technology not only produces better visuals due to the resolution, color and processing, but also has a longer lifespan and 24/7 support. HYPERVSN is more than just hardware, it is an entire system of supporting software, display management and even content creation. At HYPERVSN, we focus on content management, accessibility, affordability and creation to make sure your content is always making an impact, front and center.
If you would like to learn more about content creation click here. To try out HYPERVSN 3D Studio and see what you can create in just a few clicks explore it here.
If you'd like to explore more HYPERVSN SmartV advanced technical features, feel free to visit the SmartV page.
HYPERVSN transforms Digital Signage 2.0, so join us today and experience the holographic revolution!
Join our mailing list to keep up with the latest HYPERVSN news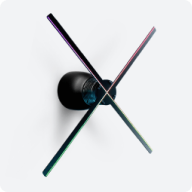 HYPERVSN 3D Catalog
USD 1,200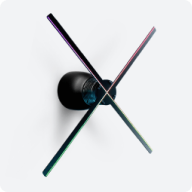 HYPERVSN 3D Catalog
USD 1,200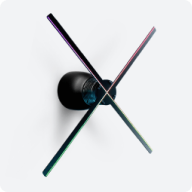 HYPERVSN 3D Catalog
USD 1,200