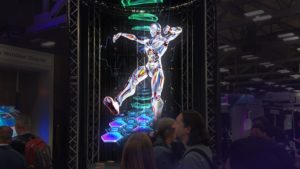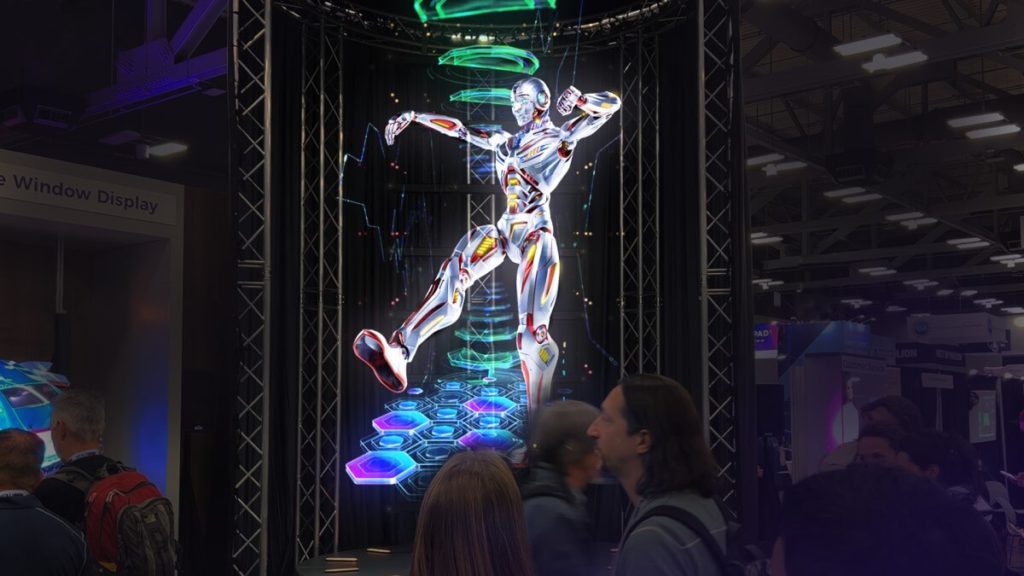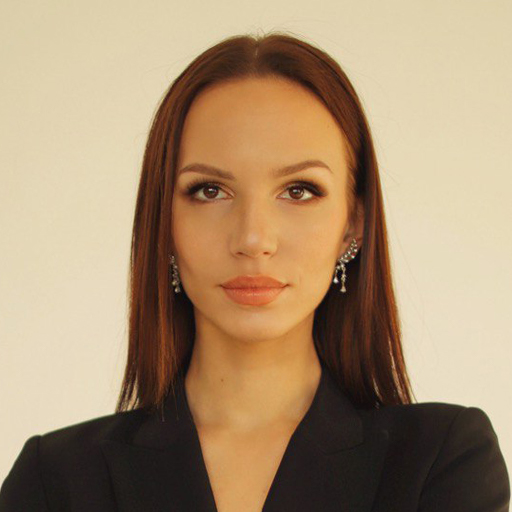 Maryia Malchun
Marketing Manager
HYPERVSN is Vimeo's Top Tech Trend of 2023
14 April 2023 • 7 min read
London, UK – The team had an incredible time enjoying the famous Texas hospitality, at the SXSW Creative Industries Expo! The technology showcase was just as exciting as HYPERVSN solutions grabbed the attention of respected brands such as TechCrunch and Vimeo, earning a top spot on their social pages.
Joined by Urban Air Vehicles, Immersive Art and VR experiences in Vimeo's top tech trends of 2023, what's interesting is that all these innovations have at least one thing in common; they feel futuristic and 'out of this world' – a normal thing now when watching HYPERVSN 3D holographic visuals.
From 2D to 3D: The Shift in Visual Experiences
Anyone who isn't working with 3D by now is massively underestimating the format's business potential. Yes 2D, LED screens are the norm and have their uses, but it's becoming harder and harder every year to match the excitement, engagement and emotional buzz you get with 3D.
If we Humans could've known what effect switching to 3D visuals would've had on our marketing, we'd have switched over much faster. When declaring the redefinition of Digital Signage, the proof is in the numbers for HYPERVSN: 40% longer viewing and engagement time when compared with standard 2D signage, along with an 88% emotional boost, which may result in a 40% sales increase for instance. These metrics have been taken from our portfolio of roughly 500 use cases (this includes both client reports and the team's research across the digital space; the real number of HYPERVSN applications seems to be much higher).
The world has been witnessing the steady growing demand for engaging & immersive experiences, and we can't ignore the efforts signage manufacturers have put into the development of 3D solutions, providing their clients with more and more 3D experiences as interest in the industry grows. However, HYPERVSN has managed to predict the trend of the future and now dominates the 3D Holographic space.
Visitor Feedback from SXSW
'Hands down [my] favorite exhibit of the Creative Industries Expo at SXSW 2023,' was the feedback in one of HYPERVSN's LinkedIn mentions, with the caption accompanied by a short video of medical visuals appearing to float in mid-air. Formed with dozens of LED lights placed along the 4-ray devices, the visuals are not only stunningly realistic but also completely interactive. Whatever action you take with these holographic visuals, zoom in or rotate, the level of immersiveness and detail blows people's minds.
Our SmartV 3D Modeller reinvigorates the learning experience; 'It's so impressive how real it looks,' another post in Spanish reads, concluding, 'Technology can help patients better understand their clinical conditions and treatment approaches.' It really can, since at HYPERVSN we have proved the practicality & relevance of interactive holographic visuals for a variety of technical clients across the industries.
'Could this be the future of healthcare – scanning our organs for better visibility?' a great suggested use from the LinkedIn community, HealthPals. You can look at the 3D visuals for yourself and guess the answer, but without sounding too boastful we think the answer would be a resounding YES.
Upgraded and Multifunctional – HYPERVSN in 2023
Сombining both hardware and software components, things have taken some exciting turns since 2012, when childhood friends-turned-founders, Kiryl Chykeyuk and Art Stavenka, declined the offer from the BBC's Dragons Den and took a chance on themselves. Starting as a formidable 3D visual marketing tool, we have converted the potential of HYPERVSN technology into a whole variety of innovative applications, to deliver a vision of 'Star Wars-esque' futuristic sci-fi tech in a modern day earth-bound experience.
Today's HYPERVSN is dominating the industry with Digital Humans and AI Customer Service assistants, with the latter having already made it to the world of Banking. We took a leap into the future of Teleconferencing, allowing for the real-time integration of 3D human size avatars in live events, business meetings and conferences. From holographic performances to integrations to staging, Entertainment is getting turned on its head with HYPERVSN solutions too. To top it all off, HYPERVSN continues to innovate the Retail industry, creating the ability for brands to implement interactive and personalised shopping experiences to revolutionise their physical stores through Digital Signage.

It's only the start of 2023, and we are already reaching for the stars. Thanks to TechCrunch and Vimeo with their spotlight on our holographic visuals, we're looking forward to the many exciting, creative and challenging projects we're sure to work on this year.
Join our mailing list to keep up with the latest HYPERVSN news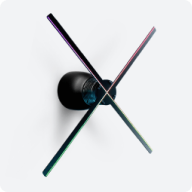 HYPERVSN 3D Catalog
USD 1,200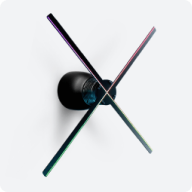 HYPERVSN 3D Catalog
USD 1,200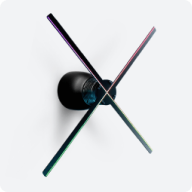 HYPERVSN 3D Catalog
USD 1,200