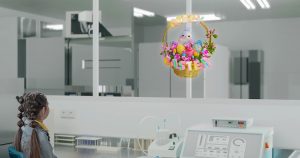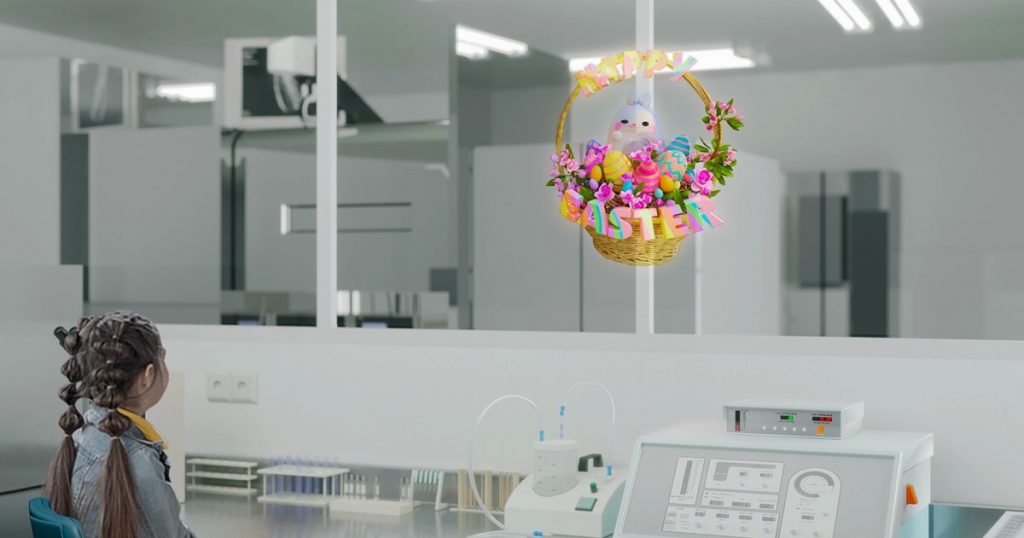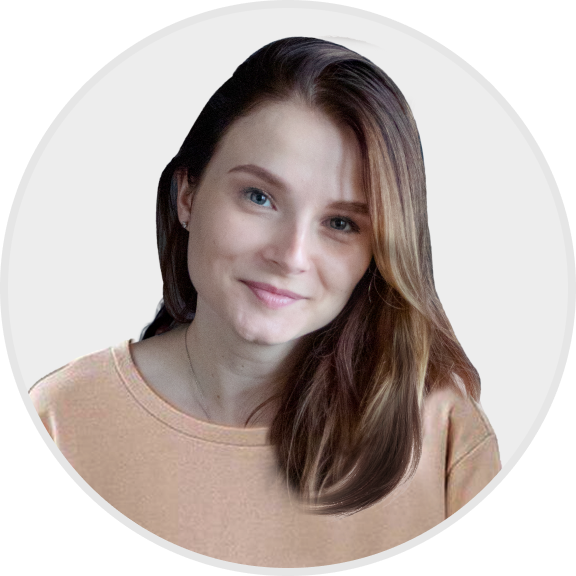 Viktoryia Vlasava
Marketing Manager
HYPERVSN and Hospitals: 3D Visuals to Reduce Pain Levels
10 September 2021 • 5 min read
We all know that children love cartoons, but what most people don't know is that 3D visuals of cartoon characters can actually alleviate their fear and worry in hospitals. Explore how our partner in Estonia, KNM Eesti, helped Tartu University Hospital reduce the fear and pain experienced by children during their medical procedures.
During the last two years, people all over the world have seen the sheer importance of good healthcare and appreciated the work of healthcare workers everywhere. Back in 2020, our insightful partner KNM Eesti was looking for a way to help hospitals with the latest HYPERVSN holographic technology. Spoiler alert: they got amazing results.
So we've decided to talk with them and get all the necessary research details, so that you can learn from their experience and start planning your own installations!
How did you come up with the idea to use HYPERVSN at the hospitals?
We brainstormed together with our Sales Team how various industries could benefit from using HYPERVSN technology, and to what industries we hadn't introduced it to yet. That's how we came up with the idea to offer HYPERVSN units to hospitals. We wrote to several hospitals, and Tartu University Hospital was the one who had the idea that maybe the 3D visulas floating in mid-air will help children to reduce fear and pain levels. And it did. A lot!
Tell us more about the case
During the research, HYPERVSN Solo L was installed at Tartu University Hospital in the neurology department's procedure room.
51 children with 28 different diagnoses participated in it, and their pain levels were assessed by the nurses with theFLACC pain scale, before and after looking at the 3D visuals. The HYPERVSN device was displaying 31 different 3D animations of cartoon characters, magical forests, easter bunnies, etc, designed for reducing fear and pain during medical procedures.
What are the results of this research?
The results showed that after looking at the 3D visuals children's pain levels were reduced by 95%.
The current study shows great promise in applying HYPERVSN holographic technology as a distraction technique, to help patients manage their fear and pain. 3D visuals significantly reduced not only children's fear and pain levels, but also increased the work efficiency of the doctors and nurses. Just imagine, instead of panicking during the procedure, a child is sitting still and looking at the 3D visuals floating in mid-air. Surely, it eased the implementation of several medical procedures!
"I liked measuring blood pressure. The child didn't notice the procedure, he was just talking about 3D visuals."
As a result, today, both doctors, nurses, parents and children can claim that HYPERVSN holographic devices can reduce or lead to a complete lack of awareness of fear when carrying out medical procedures.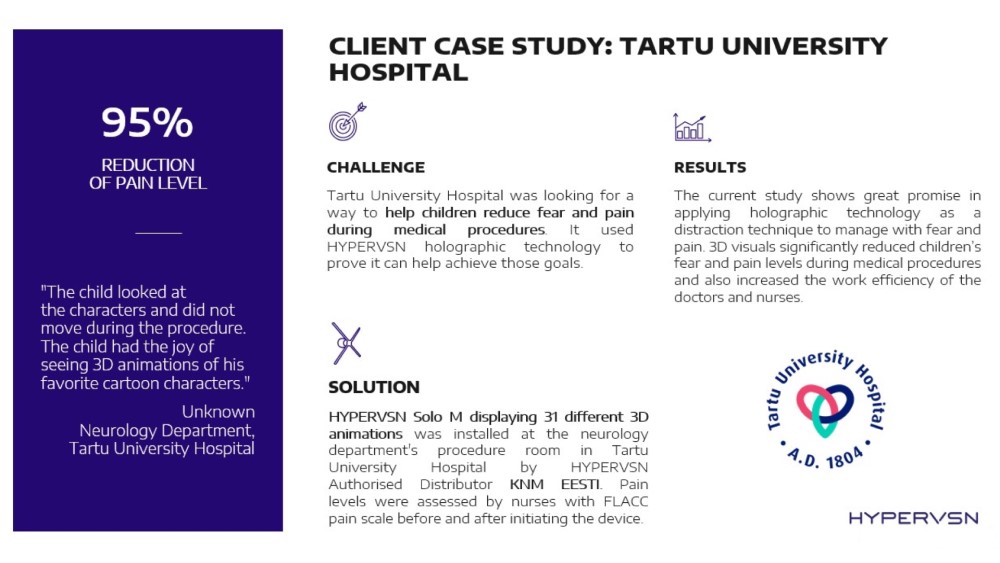 What additional info would you like to share?
We also have great feedback both from nurses and parents, I would like to share several of them:
"The child looked at the characters and did not move during the procedure. The child had the joy of seeing 3D animations of his favorite cartoon characters."
"The child was afraid of taking the analysis, was tense, and slightly shaking. But then he saw 3D animations and was drawn to them. The child became relaxed and began to explain what he saw. He liked 3D visuals very much."
"We went to the neurology department to give blood tests, and this holographic device is very awesome. I guess my child didn't realize he was punctured by a needle because he was screaming with joy when the 3D animations changed."
How magical! At HYPERVSN, we are focused on innovation and creativity, and this is an excellent user example of using our 3D technology to create a sense of excitement and wonder, in a traditionally scary and intimidating place for both children and adults! We are so proud of our Partners, creating new and ever more incredible ways to help people and businesses all around the world. If you want to discover more on the next trends in holography, just visit our blog. And if you want to learn more about the whole range of HYPERVSN products, visit the product webpage.
Join our mailing list to keep up with the latest HYPERVSN news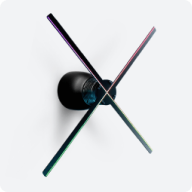 HYPERVSN 3D Catalog
USD 1,200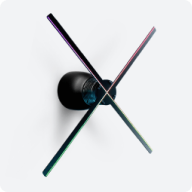 HYPERVSN 3D Catalog
USD 1,200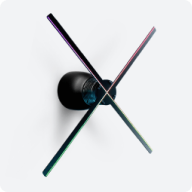 HYPERVSN 3D Catalog
USD 1,200