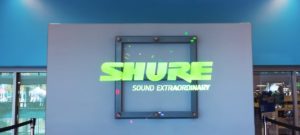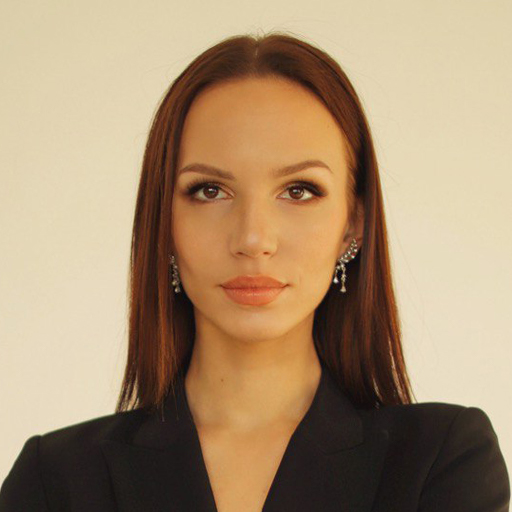 Maryia Malchun
Marketing Manager
Shure Steals the Show in 3D at NAMM
08 June 2023 • 5 min read
The National Association of Music Merchants Show, also known as the NAMM Show is held annually in Anaheim, California, becoming the world's 'largest stage' bringing together the best of the best across the Sound, Music and Entertainment Technology industries. Whether you're there to network, find inspiration or realise your next great innovation, as an exhibitor you need to make sure your booth grabs attention and keeps it, which is exactly what Shure's Senior Channel Marketing Manager, Morgane Devos, was determined to do.
A 'Shure' Bet
Shure is a US Audio brand, delivering immersive sound experiences to musicians and content creators around the world, and while attending the SXSW show in Austin, Morgane bumped into our very own Lisa J Schanley, U.S. Director of Business Development Entertainment. After exploring the multiple holographic solutions at the HYPERVSN booth, they went away to continue discussing rental opportunities and brainstorm ideas for their upcoming NAMM event.
Why Holographics
While being an Audio brand, Morgane was keen to ensure that as well as sounding phenomenal at the event, they also had to look incredible too. Keen to attract and retain interest at such a renowned trade event, she wanted to capitalise on the fact that people love technology, but being surrounded by modern digital experiences 24/7, grabbing someone's attention is not so easy to do anymore. Previously, she had come across a video of musicians being live-streamed into live performances and watching the reactions from the audience, this futuristic holographic display was something that immediately spoke to her.
Innovative, out of the norm and totally extraordinary, HYPERVSN solutions are absolutely ideal for brands who want to totally stand apart from the crowd and get people asking questions, engaging with the brand and raving about it to their peers. Show-stopping 3D visuals are a beautiful way of doing just this, and is exactly what Morgane and Shure managed to capitalise on.
Shure's Installation with HYPERVSN & Feedback
Going into the project, Morgane and Shure knew that they needed to give their booth high visibility across the event area, to make sure that even before people got close to their booth, Shure was being seen and delivering the all important 'WOW' effect from the very start. Installing a HYPERVSN SmartV Wall 9-unit setup, they showcased incredibly detailed 3D holographics of two musicians representing the brand, vibrant dynamic brand visuals and even promoted their latest product release, the GLX-D+ DUAL BAND Digital Wireless System.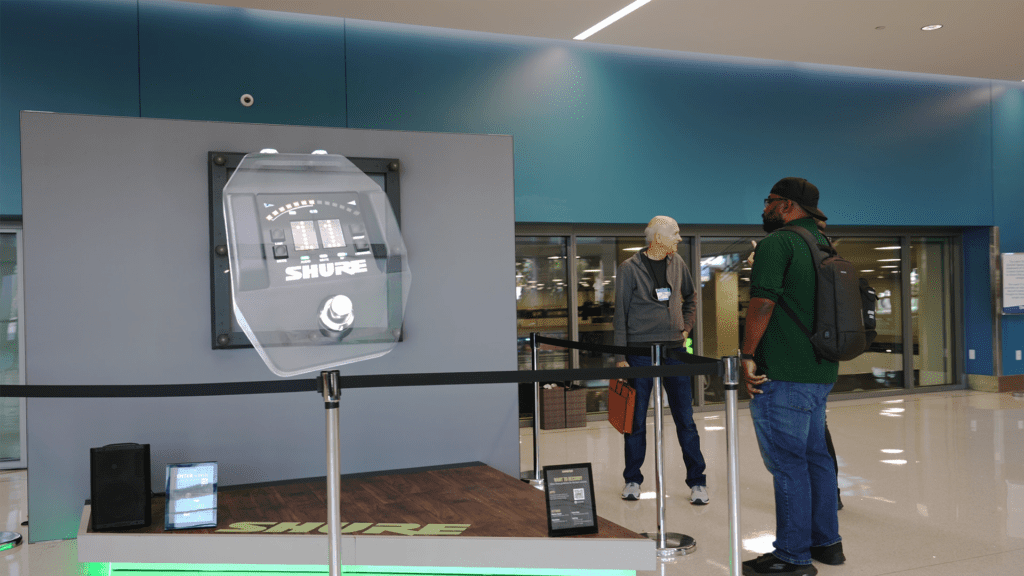 Their booth did exactly what they wanted, and attracted huge crowds who were all at once impressed and curious about the brand, their products and their visuals."The feedback has been absolutely amazing! Everyone was talking about the Shure hologram experience. I've had meetings with customers and the first thing they told me was, 'What is that? I have never seen something like that…' revealing that what we made with HYPERVSN [encouraged them] to come to Shure's booth and find out more about our brand" said Morgane. "People are really intrigued by [holograms] and that's what we wanted – the positive experience and the wow factor."

Our Lisa J Schanley posted after the event: "I was absolutely "SHURE" this would be an amazing use of our tech, and it was fun talking with Nelson [Arreguín] and [Morgane Devos] from Shure Incorporated at SXSW about this idea!"
The Future at Shure is 3D
After the huge success of their booth at NAMM, Morgane and the team at Shure are excited and keen to continue working with HYPERVSN for future events. Stemming from the video she saw online, Morgane is looking to their next activation utilising the HYPERVSN Holographic Live Stream solution and even more of their Brand Ambassador musicians to create a phygital music event like no other.
Over the last few years, trade events like this have been remote and lacking the personal touch attendees have come to love and expect. Now with the return of live shows and physical meetups, you really have to go the extra mile to be a success – future-forward and industry-moving technologies like HYPERVSN do just that, and are exactly the solution companies need to revolutionise their brand and massively widen their appeal.
If you've got an event coming up, are looking for ways to 'steal the show' like Shure did, or if you're just curious to learn more about Holographic visuals, please contact us at [email protected].
Join our mailing list to keep up with the latest HYPERVSN news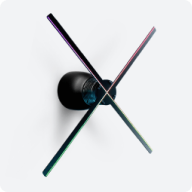 HYPERVSN 3D Catalog
USD 1,200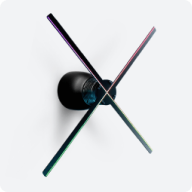 HYPERVSN 3D Catalog
USD 1,200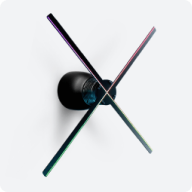 HYPERVSN 3D Catalog
USD 1,200