Q: Do I need to activate a license for my device?
Devices come bundled with a standard
Solo Classic
license. To activate any other purchased license (Cloud Pro, Wall etc.), access your Cloud Platform account, go to
My Devices
tab and click the
Activate license
icon under the device's serial number:

You'll see a drop down menu with the list of licenses that can be applied to this device: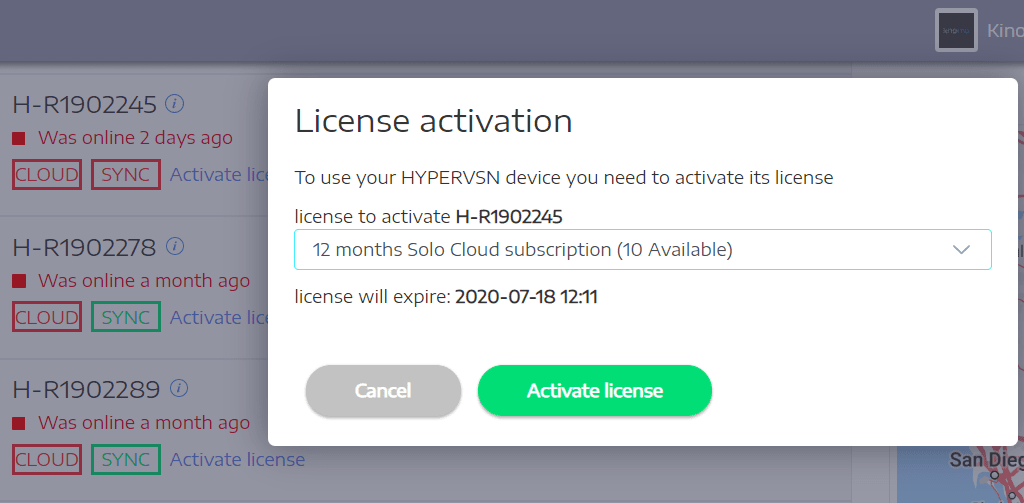 Choose the license, and click
Activate license
button.
Take note that in order for the license to be applied, the device needs to be online.
Q: The "Activate license" button remains active, even after the license has been added to the device.
It is possible to assign several licenses to the same device, therefore Activate license button will always remain accessible.
Q: The device can't connect to the Wi-Fi network / "No Internet" or "Incorrect Data" messages are displayed during activation.
Check if your Wi-Fi network conforms to the
Wi-Fi requirements
(2.4 Ghz, B/G mode, no additional login or security screens). The distance between the HYPERVSN device and the router should not exceed
3
meters. Check if the Internet connection is active.
Alternatively, try activating the device using the
hotspot
on your smartphone.
Please note, activation might take up to
10-15
minutes, depending on your Internet connection.
If the issue persists, contact our
Support Team
for further instructions, noting the serial numbers located on the device's rotor and stator.