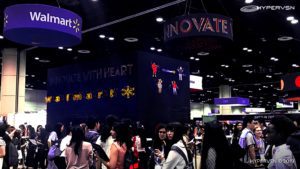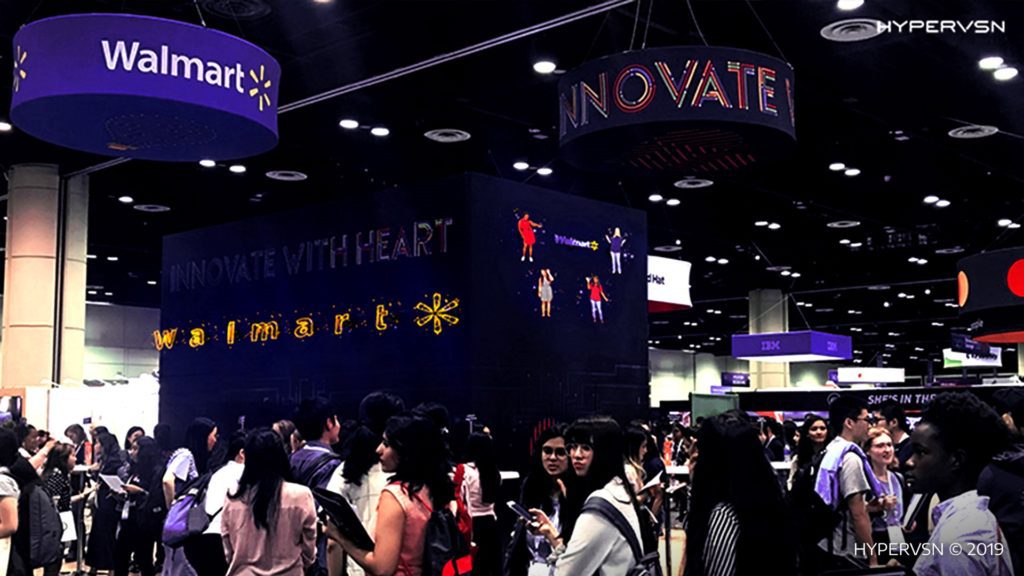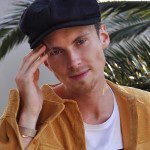 Walmart collaborates with HYPERVSN to bring customers the future of retail advertising
28 October 2019 • 6 min read
It's time to face the facts, consumers are bored with shopping. Long grey aisles that all look alike, mannequins wearing the same wigs from 5 years ago, and a sea of cardboard cut-outs – advertising everything from Christmas cards to KitKats. It's no wonder shoppers choose to have their groceries delivered to their doors these days…
Businesses are facing what has been described as the "Retail Apocalypse"- and yes, it is as scary as it sounds (for retailers). FOX Business defines the term as large numbers of brick-and-mortar stores shutting down, due to low profits, lack of retail innovation and the boom of e-commerce. Companies that have already been affected include, Sears, Gap, Bed Bath and Beyond, Toys "R" Us and Victoria's Secret. Something that is not a secret, however, is the fact that retailers need to find a new way to bring their products to life – especially if they want to rise from the retail ashes.
What are brands doing to get shoppers off their keyboards and back into their ques? Discount coupons and free cheese samples are not good enough anymore. Shoppers want more, and if brands want to keep them coming back, they're going to have to give it to them.
HYPERVSN has not only developed a solution that merges all three of these trends but creates a completely new one: holographic visuals in Retail.
A 3D holographic visual is not just a sci-fi fantasy anymore; it is real and more importantly, it is here. Forget the patchy Princess Leia projection you saw in Star Wars, HYPERVSN devices produce breathtaking 3D holographic visuals that force you to question reality. Can you imagine the explosive brand awareness a product floating in mid-air would have? Holography has redefined the retail market with a new generation of branding. This mesmerizing new retail technology stops shoppers in their tracks, extends attention spans and creates a visual storytelling experience you can't help but watch over and over. The best part is, it is making shopping fun again – cutting through the commercial clutter with advertising consumers actually want to see and messages shoppers can't forget.
Introducing, HYPERVSN 3D Catalog: the world's first gesture-controlled holographic product catalog. This in-store solution offers the ultimate retail engagement, allowing shoppers to choose and control the 3D content being displayed in front of them. Picture a shopper browsing through a catalog in Walmart, instead this time, the products appear directly in front of them (in 3D), and they are able to scroll through them with a single swipe of their hand. This all-in-one retail solution is perfect for product launches, brand promotions, in-store events and collaborative activations.
It's time to talk about the results. HYPERVSN is trusted by some of the biggest names in the business including, Coca-Cola, Nike and Universal. A recent case study with Coca-Cola Mexico revealed a 12% increase in sales of their product being promoted with HYPERVSN devices. Hidden cameras showed that 90% of shoppers (who passed the installation) stopped for at least 15 seconds to watch it. With such impressive findings it was only a matter of time before Walmart, one of the biggest IT innovation players on the planet, decided to join forces with this cutting-edge technology.
Walmart is going the extra "aisle" in retail with holographic technology
Walmart is no stranger to innovative technology: handheld shopping apps, digital product demonstrations, store floor robots – think of them as the Steve Jobs of department stores. But now they're taking their innovation game to the next level. For the first time in their history, Walmart will be using holographic technology to sell their products.
Walmart is putting all of these to the test by installing HYPERVSN devices in one of their outlets in Mexico City and in an ASDA store in Stevenage, UK. Think about it, what would you do if you walked into a Walmart outlet and saw a holographic watermelon floating in the fruit and veg aisle? You'd stop, make sure it wasn't an illusion, take out your phone and share it with your friends – you'd possibly even tweet about it. In minutes, a crowd would form to see the melon magic. And then, just as you've developed a craving for fruit salad and picked up your own watermelon, the holographic visual transforms into a bunch of grapes.
The possibilities with this technology are endless, which is exactly why Walmart is kicking off their store experiment with a holographic Halloween pumpkin installation, made up of 8 devices in their seasonal section. No innovative retail stores' trial would be complete without stunning product content; 3 units will be set up in the cellular area – advertising one of Walmart's feature mobiles. Last, but certainly not least, a 24-unit HYPERVSN Wall display will be installed above the Walmart dressing rooms, showcasing the latest Halloween apparel. It promises to be an absolute "treat."
Business between these two innovators does not end there. HYPERVSN supported Walmart as their technology provider at the Grace Hopper Celebration this year – the biggest international conference in the world for women in technology. Only a collaboration as bold, bright and beautiful could be used to celebrate women in technology.
Consumers may be bored with shopping, but Walmart is about to change the face of retail with 3D holographic technology. And once they have, you'll be looking for an excuse to fill up your shopping bags.
Join our mailing list to keep up with the latest HYPERVSN news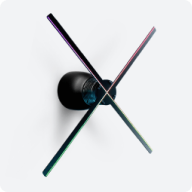 HYPERVSN 3D Catalog
USD 1,200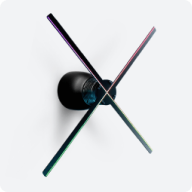 HYPERVSN 3D Catalog
USD 1,200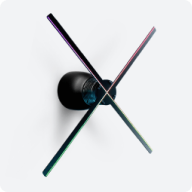 HYPERVSN 3D Catalog
USD 1,200