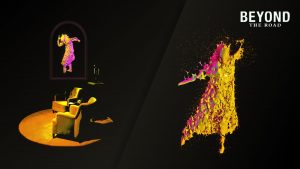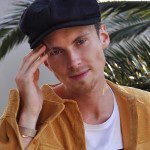 HYPERVSN Redefines Art in Motion at Saatchi Gallery
16 August 2019 • 6 min read
Walking through the Beyond The Road exhibition is like walking through the wardrobe that leads you to Narnia, except this time, you don't step out. The fantasy world that transcends time, place and space is brought to you, all inside four dark, abandoned walls.
A Break from Reality
Forcing you to leave your modern-day life behind and follow your senses on a mysterious journey of head-to-toe immersion. An experience beyond art, beyond film, beyond music and now thanks to HYPERVSN, beyond dimensions. And trust me, snapping back to reality after exploring the entire top floor of Saatchi Gallery in a daydream-daze doesn't happen straight away.
Punchdrunk Creatives
This ground-breaking exhibition was developed by two creative masterminds from the award-winning British theater company, Punchdrunk; Colin Nightingale (Creative Producer) and Stephen Dobbie (Sound Designer and Creative Director). Due to popular demand, the pair's Beyond The Road exhibition has just been extended to the 8th of September 2019. This means that if you haven't had a chance to see the show for yourself yet, you still have a time to go "Beyond The Road".
I must warn you…If you're looking for an art exhibition where you can analyse an abstract painting of a peacock, while fanning yourself with a welcome brochure and sipping on a glass of free Merlot – then this is not the exhibition for you. But, if you're ready to lose yourself in a parallel universe this Summer and see HYPERVSN welcome the future of 3D technology to the home of modern art, then book your tickets today.
Smoke & Mirrors
Back to the actual art, expect to see an array of illusions that leave you questioning reality, long after the colored smoke that fills each of the gallery rooms clears. An uprooted tree hovering behind a curtain, half the body of an animatronic human – slowly coming to life, a baby duck frozen in time and a series of flickering lights and misplaced objects all wrapped up in one meditative soundtrack. There's still one thing missing though, no fully immersive exhibition set to challenge the conventions of sound and technology, would be complete without a 3D hologram floating in mid-air. That's where HYPERVSN comes in. However, redefining art in motion couldn't be done alone. Partnering with world-renowned conceptual artist, Tupac Martir and musical pioneer, James Lavelle (UNKLE), HYPERVSN has become a part of the headlining installation at the Beyond The Road exhibition. Without giving too much away, let' just say that the installation reflects a whole new world…
Tupac Martir & James Lavelle (UNKLE)
From Elton John to Sting to Beyoncé, Tupac Martir has worked with some of the most influential pioneers on the planet, and now he has added HYPERVSN to that A-list. But this is not the first time these two have made magic happen together. Earlier this year, Tupac featured HYPERVSN in his closing keynote at ISE Amsterdam 2019 – outlining how brands can bring ideas to life through images that everyone can relate to.
Now in Tupac's showstopping installation for the Beyond The Road exhibition, HYPERVSN is taking center stage once again. What a revolutionary experience it is to see the artistry of man and machine meeting in the same dimension. The final piece of this holographic puzzle was none other than musical legend, James Lavelle (UNKLE). This artistic genius has spent over two decades brining music and art together in exciting experiences. Transforming the traditional ways in which we interact with music. Between you and me, I think that this is some of his best work yet. The only way that I can describe the musical journey you are taken on, is like being swallowed whole by a whale. You hear the outside world in the far distance, the new world that you find yourself in echoes back at you the harder you listen, and the waves of acoustic sounds keep crashing against you. Trust me, you need to experience it for yourself.
The future is here
When you push the boundaries of the future it becomes impossible to live in the past, and let me tell you, I certainly won't be able to go to another art exhibition like the ones I have gone to in the past. Don't miss out on the highly immersive holographic installation at the Beyond The Road exhibition in London. Saatchi Gallery has just taken a trip to the future with HYPERVSN technology and it doesn't look like they're coming back.
Join our mailing list to keep up with the latest HYPERVSN news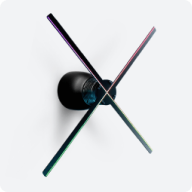 HYPERVSN 3D Catalog
USD 1,200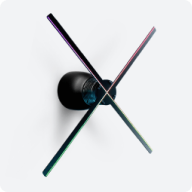 HYPERVSN 3D Catalog
USD 1,200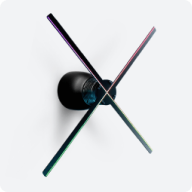 HYPERVSN 3D Catalog
USD 1,200