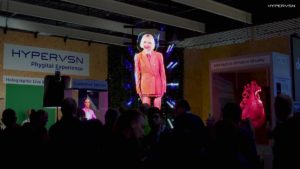 Alexander Starodetko
Communications Lead
HYPERVSN to Showcase Latest Solutions at SXSW 2023
07 March 2023 • 5 min read
London, UK – 7 March 2023 – Kickstarting the year with huge success at CES, NRF, ISE, and Euroshop the HYPERVSN team is headed to Austin, Texas for the Creative Industries Expo at SXSW 2023 to showcase the latest holographic solutions.
The SXSW Creative Industries Expo is the convergence of all industries on the cutting-edge of technology, design, social good, health + wellness, and more. The HYPERVSN Phygital Experience Hub (Booth 407) will bring a variety of the newest HYPERVSN SmartV solutions, including Interactive Window Display and Digital Avatar, to showcase the practical benefits of merging the physical and digital worlds with seamless touch-free interactivity.
HYPERVSN will also be showing a cutting edge 5-metre tall Holographic Human and Full Body Live-Streaming. These Phygital solutions have been met with amazement at all events HYPERVSN has joined in the past few months. And this suite of solutions will showcase the wide array of applications that HYPERVSN technology has for the creative industries.
Explore the brand-new Phygital solutions from HYPERVSN yourself at SXSW Creative Industries Expo, Booth 407 on March 12-15, 2023.
About HYPERVSN: HYPERVSN is the award-winning British company responsible for developing the disruptive Integrated 3D Holographic Display Platform that provides an immersive experience for viewers.
Since its official release in 2017, HYPERVSN has been named among 10 best technologies by Yahoo!, USA Today & Inc Magazine. Backed by Mark Cuban and Richard Branson, it has been used by over 25% of Fortune 500 companies in 90+ countries.
The proprietary HYPERVSN hardware works in conjunction with the Software Suite to provide customers with an integrated business solution. HYPERVSN holographic solutions are perfect for digital signage campaigns, holographic display billboards, digital out-of-home media, activation events, corporate receptions areas and 3D point of sale displays. Learn more at www.hypervsn.com.
Join our mailing list to keep up with the latest HYPERVSN news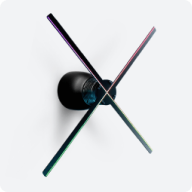 HYPERVSN 3D Catalog
USD 1,200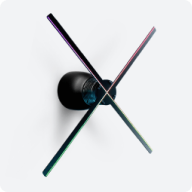 HYPERVSN 3D Catalog
USD 1,200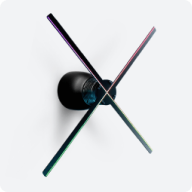 HYPERVSN 3D Catalog
USD 1,200