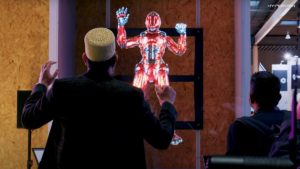 Alexander Starodetko
Communications Lead
HYPERVSN is Headed to Euroshop 2023
21 February 2023 • 7 min read
London, UK – 16 February 2023 – After huge success at CES, NRF and ISE earlier this year, the HYPERVSN team are off to Euroshop 2023 in Dusseldorf. Euroshop is the largest Retail Trade event in the world and runs from Feb 26 – 2 March this year. HYPERVSN will be amongst hundreds of top-tier exhibitors, with the best in the world showcasing all their inspiring ideas and innovations, that are pushing the boundaries of what we know as Retail today.
The HYPERVSN Phygital Experience Hub (Booth 4D07 in Hall 4) will be stocked with a variety of HYPERVSN SmartV solutions, including Digital Endcap, Product Configurator, 3D Modeller and the renowned 5-metre tall Holographic Human. These Phygital solutions have been met with amazement at all the recent events HYPERVSN have attended and show the practial benefits of merging the physical and digital worlds with seamless touch-free interactivity. We are really looking forward to seeing the reactions these new HYPERVSN products and solutions will receive in Germany with the movers and shakers of the Retail world.
HYPERVSN will also be showing a completely new HYPERVSN SmartV Window Display solution with interactive gesture-controlled 3D visuals. There is huge demand among Retail customers for attention-grabbing technology, this industry-specific solution is set to increase brand awareness exponentially and allow brands to really stand out in crowded Phygital spaces.
Explore the brand-new Phygital solutions from HYPERVSN yourself at Euroshop 2023, Hall 4, Booth 4D07.
About HYPERVSN: HYPERVSN is the award-winning British company responsible for developing the disruptive Integrated 3D Holographic Display Platform that provides an immersive experience for viewers.
Since its official release in 2017, HYPERVSN has been named among 10 best technologies by Yahoo!, USA Today & Inc Magazine. Backed by Mark Cuban and Richard Branson, it has been used by over 25% of Fortune 500 companies in 90+ countries.
The proprietary HYPERVSN hardware works in conjunction with the Software Suite to provide customers with an integrated business solution. HYPERVSN holographic solutions are perfect for digital signage campaigns, holographic display billboards, digital out-of-home media, activation events, corporate receptions areas and 3D point of sale displays. Learn more at www.hypervsn.com.
Join our mailing list to keep up with the latest HYPERVSN news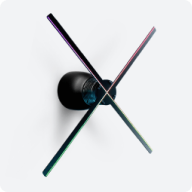 HYPERVSN 3D Catalog
USD 1,200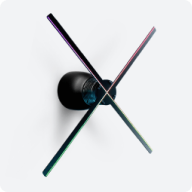 HYPERVSN 3D Catalog
USD 1,200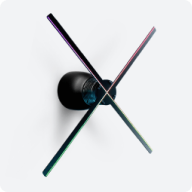 HYPERVSN 3D Catalog
USD 1,200