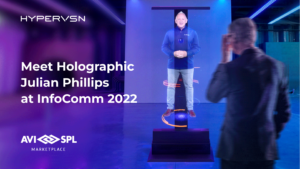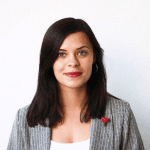 Darya Krakovyak
Communications & Events
HYPERVSN and AVI-SPL Collaborate for InfoComm 2022
06 June 2022 • 7 min read
London, UK – June 6, 2022 – HYPERVSN is installing their renowned HYPERVSN SmartV Holographic Human solution at the AVI-SPL booth at this year's InfoComm in Las Vegas, NV.
Famed for grabbing the attention of audiences instantly, Holographic Human will feature AVI-SPL's Julian Phillips, Senior VP & Managing Director, XTG, as he welcomes visitors to the AVI-SPL booth. As one of the industry's leading digital enablement solutions providers, HYPERVSN is excited to work with AVI-SPL on this project, combining their innovation with AVI-SPL's industry expertise and reach.
"HYPERVSN has captured the imagination of two rapidly expanding audiences; firstly, those designing hybrid customer experiences where that immersive human experience is all too important, and secondly for those who have been fascinated by the opportunity for 3D visualization but hindered by the practicality of glasses or goggles," said Julian Phillips, senior vice president and managing director, XTG.
"The HYPERVSN team is happy and proud to be working alongside AVI-SPL at InfoComm this year. A respected and globally recognised brand, they are keen innovators and continually push the digital solutions industry to bigger and better heights. May this be but the first project of many that we collaborate together on!" – Kiryl Chykeyuk, Founder at HYPERVSN.
Explore the Holographic Human at AVI SPL's booth (W1937), before coming over to the HYPERVSN booth (N3053) to explore more of their brand new HYPERVSN SmartV solutions. Book a dedicated demo with the HYPERVSN team right here.
About AVI-SPL: AVI-SPL is a digital enablement solutions provider who transforms how people and technology connect to elevate experiences, create new value, and enable organizations to thrive and grow. We are the largest provider of collaboration technology solutions, which include our award-winning managed services. AVI-SPL's highly-trained team works hand in hand with organizations worldwide – including over 80% of Fortune 100 companies – to strategize, design, deploy, manage, and support AV and UC solutions that are simple to use, scalable, serviceable, and measurable to ensure business objectives are achieved. Visit AVISPL.com to learn more, or connect with AVI-SPL on Twitter and LinkedIn.
HYPERVSN PR & Marketing contact:
Darya Krakovyak
[email protected]
Join our mailing list to keep up with the latest HYPERVSN news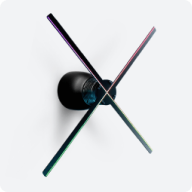 HYPERVSN 3D Catalog
USD 1,200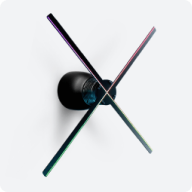 HYPERVSN 3D Catalog
USD 1,200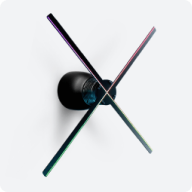 HYPERVSN 3D Catalog
USD 1,200