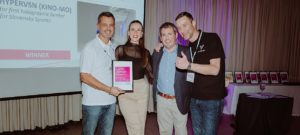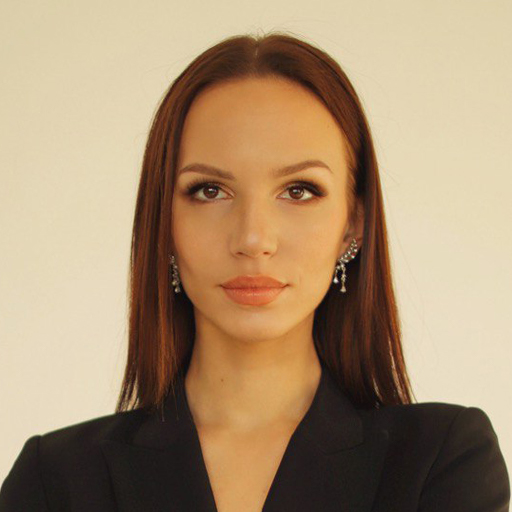 Maryia Malchun
Marketing Manager
Digital Signage Awards 2023: HYPERVSN Wins Retail Banking
03 February 2023 • 5 min read
London, UK – HYPERVSN has won the 'Retail Banking' category at the Digital Signage Awards 2023, with the world's first digital banking assistant project coming out on top. Truly a dream ending to our ISE 2023 adventure, and a great token of recognition from the whole professional community.
Chosen by the Jury panel, the winning project had been in production for several years, and was launched in 2022, to take the Slovakian bank, Slovenská sporiteľňa's, customer experience to the next dimension. The female avatar of a holographic banker was powered by our 8-unit HYPERVSN Wall and given the name Vesna (in Slovakian it means 'Spring'). Vesna is programmed with more than 150 complex scenarios, and provides a whole host of bank services. Installed microphones and speakers detect voice commands and allow the hologram to respond, interact and advise clients on banking services, answering questions on accounts, cards, investing and others. The project combines some of the most innovative technologies, including machine learning, AI, holographic technology, text to speech and voice recognition. However, Vesna doesn't lack that crucial 'human touch' so people naturally enjoy chatting & interacting with 'her'.
'It's a great milestone, for HYPERVSN to be the first to demonstrate the coming future of the banking industry and interactive customer experiences. To be witnessing the tributes start pouring in from our peers, means a ton to us. The industry has seen a variety of innovations lately, and being #1 means the team have invented something truly outstanding,' said Massimiliano Carlesi, HYPERVSN Sales Director Italy, who was accepting the prize at the award ceremony on February 2nd, adding 'We say a huge thank you to our Slovakian partner OPTIO as well as the team of AI experts at NETTLE for their outstanding work and bringing this project to the local market.'
Started with the previous generation of HYPERVSN devices, Vesna is now being moved to the latest HYPERVSN SmartV platform for increased 3D excellence.
The global Digital Signage Awards are the independent international awards in the field of digital signage, DOOH advertising and digital visual experiences, to announce the world's best companies and projects for excellence and innovation. The award recognizes 18 categories, including Corporate & Workplace, Digital Out Of Home Media, Education & Healthcare, Hotels, Resorts, Theme Parks & Attractions, Museums & Historic Sites, Public Spaces, Retail, Retail Banking and Sports & Entertainment Venues.

If you want to learn more about HYPERVSN holographic technology and how it can benefit your business, drop an email at [email protected].
Join our mailing list to keep up with the latest HYPERVSN news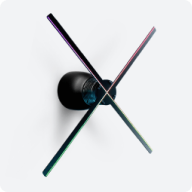 HYPERVSN 3D Catalog
USD 1,200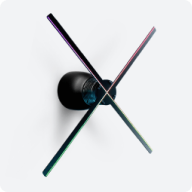 HYPERVSN 3D Catalog
USD 1,200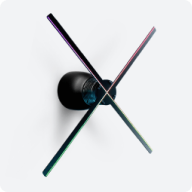 HYPERVSN 3D Catalog
USD 1,200