New users: $10,000 worth of custom 3D content at the click of a button.
HYPERVSN Solo Classic is customized for users who require one or several single-unit HYPERVSN devices, to stun their audiences like never before with holographic display technology. You can connect to your 3D holographic projector with our HYPERVSN-exclusive mobile app, ensuring effortless upload and management of content.
HYPERVSN Solo device
HYPERVSN 3D Studio – free 3D visual creation
Solo Mobile App for smart device & content management
Detailed user manuals on device operation & management
24/7 Technical support from our highly trained HYPERVSN team
12-Month warranty for guaranteed digital excellence
Stop communicating & start connecting with Solo Classic
If you want to stop communicating with your brand and start connecting with it, then HYPERVSN Solo's holographic projector - with its ultimate functionality in creating, displaying and managing your 3D holographic needs, is certainly for you.
Affordable
User-friendly
Easy 3D Creation
The perfect Solo Classic clients for any brand/business
The Solo Classic package was developed for companies that require one or several single-unit HYPERVSN devices for local breathtaking business or brand promotion. Solo Classic is for you if:
You only require a handful of HYPERVSN devices to achieve your envisioned effect;
You would like to test trial HYPERVSN before running a full-scale brand campaign;
You host or participate in local events where you spotlight your brand/business.
Cut content costs, not quality with Solo Classic
New customers receive a content bonus of 100 different visuals of custom 3D content, all created with the HYPERVSN 3D Studio in the following categories:
Custom animated 3D logo: upload your logo & apply a 3D effect of your choice.
Animated 3D text promotion: example; "Experience more for 20% less."
2D-3D Assets: Upload 2D images/videos from your desktop & animate to 3D.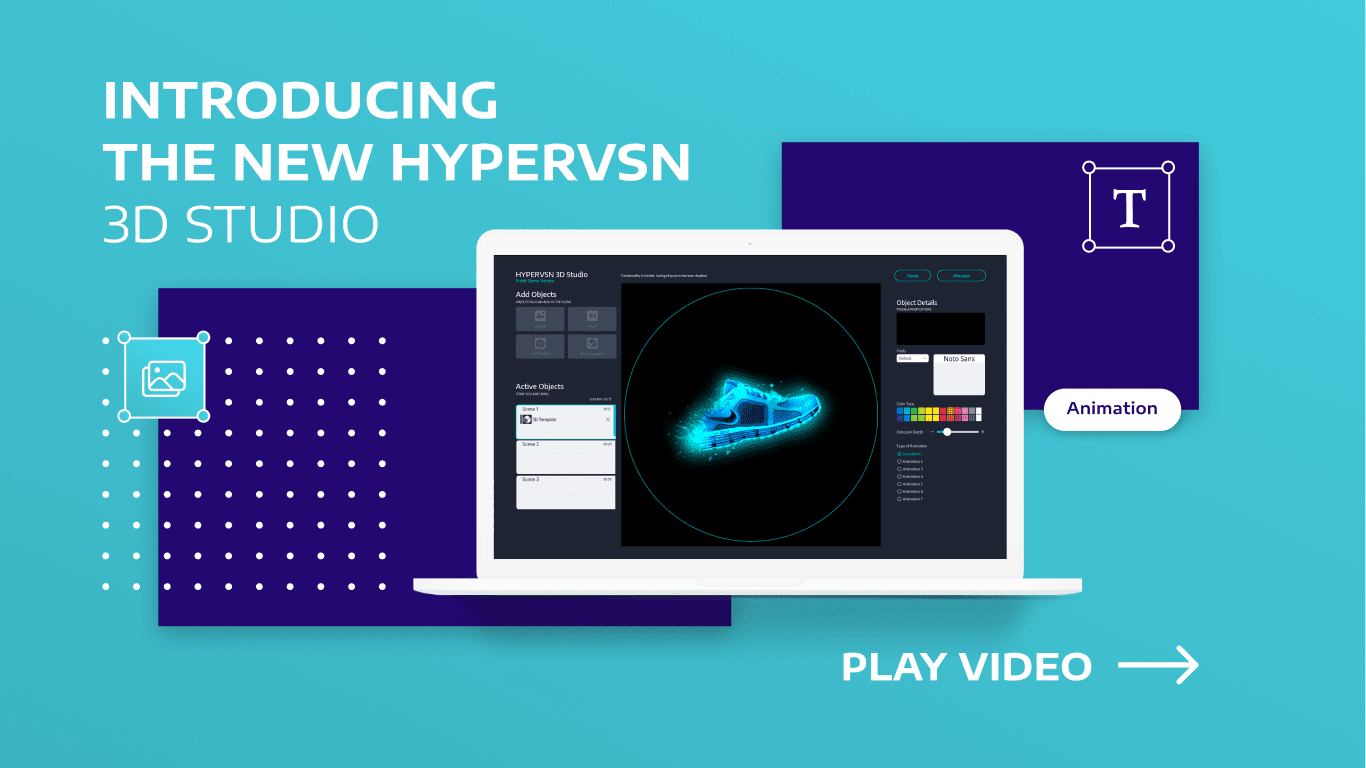 Experience first hand
HYPERVSN Solo Classic's exclusive 3D content software allows you to create high-quality 3D holographic projector visuals whenever you require them. This form of content creation reduces on-going costs, providing you with an endless source of free 3D content.
Solo Classic package details
HYPERVSN device
The HYPERVSN device is a ground-breaking 3D holographic display, famous for creating HD-quality digital visuals that appear to be floating in mid-air. Our unparalleled technology is generated by a four-ray LED-based rotor, projecting visuals at up to 30 frames per second, leaving audiences mesmerized long after your event.
Generates high-definition 3D visuals & videos.
Supports 16M+ colors for digital excellence.
Compact, lightweight, portable size (2.8kg).
Simple device installation & dismantling.
Safe & secure for audience members.
Below European standards for office noise.
Made in Ireland.
Solo mobile app
The Solo Mobile App, available on App Store and Google Play Market, is a reliable patented software designed to manage your HYPERVSN 3D holographic projector and the content displayed on it. The application communicates in two ways; with HYPERVSN's Cloud platform to activate your software license and with your HYPERVSN devices to locally manage them individually.
Downloads content from Cloud platform & uploads it to your HYPERVSN device.
Allows you to create future playlists to be downloaded at a later stage on the device.
Provides broad playlist upload & management options.
Sets up, calibrates & configures your device.
HYPERVSN 3D Studio
A design solution tailored to HYPERVSN's unique technological features, for the sophisticated creation of 3D content without specific design skills or knowledge. The 3D Studio not only guarantees high-quality holographic screen visuals, but also significantly reduces on-going costs of content production for brands using HYPERVSN devices.
Provides a range of free digital features & 3D content.
Allows you to upload a range of custom 2D & 3D models.
Converts 2D images into high-quality 3D visuals: logos, slogans, taglines.
Contains editable 3D template for your 2D assets.
Allows animation of 3D visuals: tilting, rotation speed, etc.
Allows for preview of ready-made content before finalization.
Adds visual effects & backgrounds to enhance 3D animations.
Adds custom texts in any color & language.
Seamlessly integrated within the HYPERVSN platform: easy uploads.
HYPERVSN warranty
Full 12-month manufacturer warranty
Device lifetime up to 5 years
After-sales services
After the purchase is completed we'll send you an email with the step-by-step guide explaining how to activate the device and start using it successfully.
HYPERVSN Solo Application by Kino-mo Ltd. is already available and can be downloaded from App Store or Play Market. You can also take advantage of the HYPERVSN Solo App user guide.
Any Questions?
We'll be happy to tell you more about our products!
Get to know our products better
HYPERVSN's Integrated 3D Holographic Display System offers two distinct products to choose from, depending on what size 3D holographic visual your business or advertising campaign requires: Solo for up to 56cm and Wall for virtually any size and configuration.
Purchase or lease the solution that best suits you.