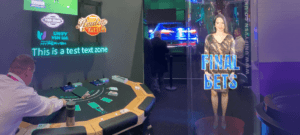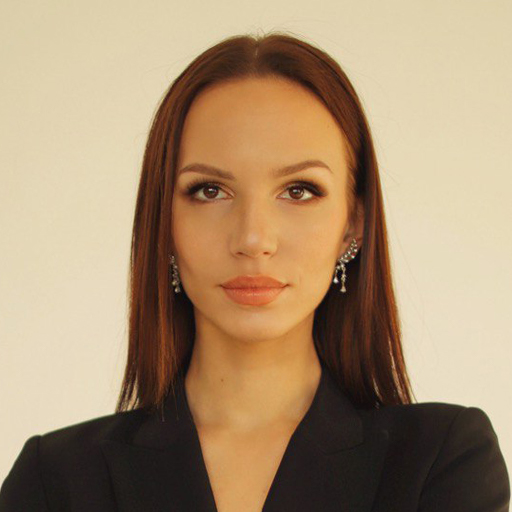 Maryia Malchun
Marketing Manager
UNIFY VSN x HYPERVSN Bring Holographic Technology to The Casino World
08 May 2023 • 7 min read
Casino's, like all industries, were affected dramatically by the Global Pandemic and continue to look for new ways to grab attention and attract customers. For this article, we talked to Daniel Wood, Marketing Executive at UNIFY VSN Ltd, asking him to share their success story of how they demonstrated HYPERVSN solutions at the International Casino Expo (ICE) 2023 – including linking our Holographic Human solution to a roulette wheel to really bring the digital world to life at a recent exhibition.

Not to mention, most of these implementations only became possible after HYPERVSN solutions moved to the SmartV platform, which allowed users to easily connect them to a variety of external triggers, including motion sensors, which bring up content on holographic displays, providing the user with a completely new interactive experience.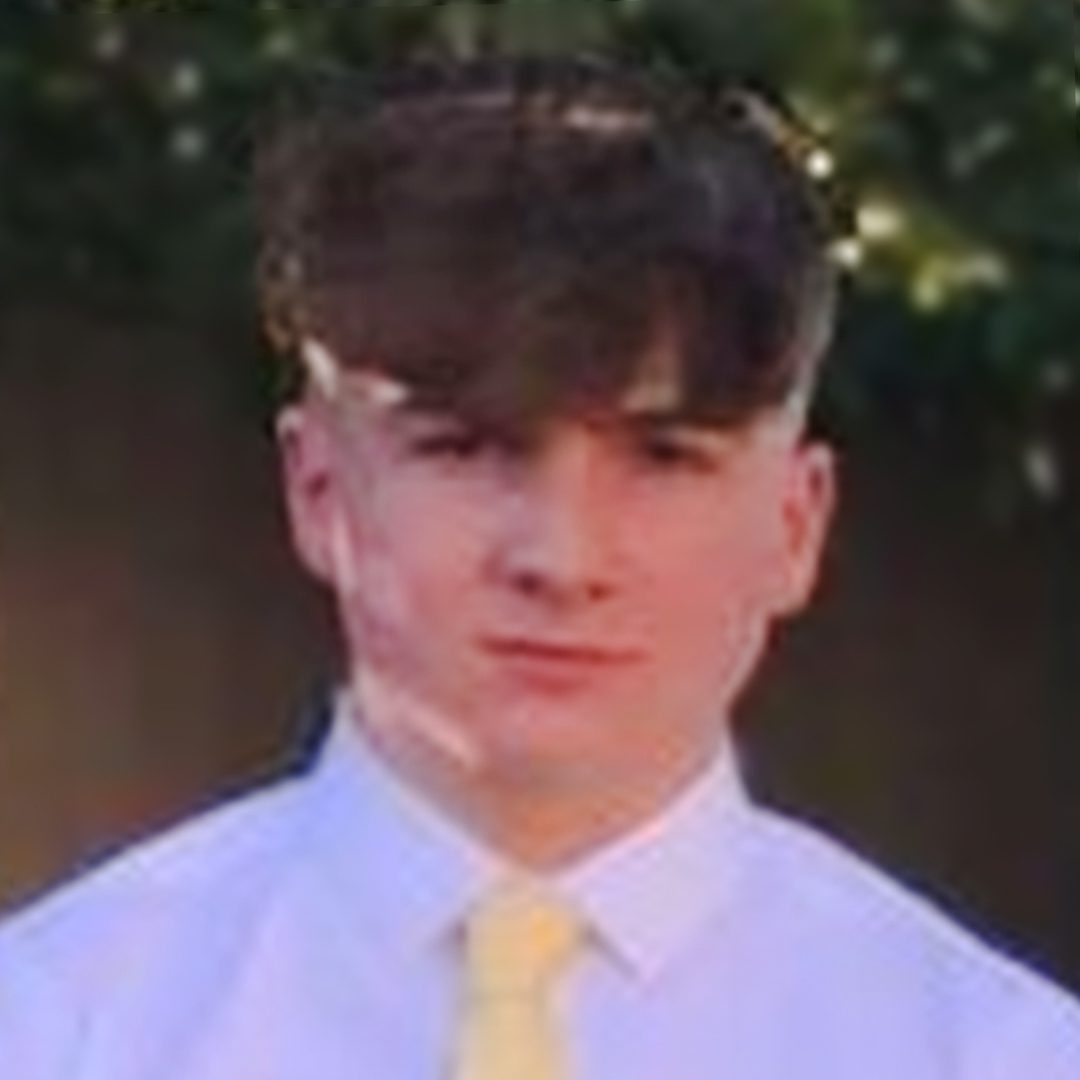 Daniel Wood
Marketing Executive
UNIFY VSN
HYPERVSN SmartV for Maximum Impact
"As a HYPERVSN Authorised Reseller UNIFY VSN knows 3D Hologram display is very different from what many people would have ever seen before," Wood begins. "But we are constantly looking to keep the user experience and visual impact as fresh as possible."

At the exhibition the team believed it was very important to differentiate themselves from the rest of the exhibitors, that is why, having many options from the HYPERVSN range at their disposal, UNIFY VSN decided to employ HYPERVSN solutions to their full capabilities: "We used the HYPERVSN Software Development Kit (SDK) and maximised it in ways never seen before, to build up a customised way to entertain guests and bring a new level of interactivity to their gaming adventures."
Introducing, The World's First Holographic Croupier
Since HYPERVSN is so much about creating an experience, reimagining Croupier's image and look, an integral part of the casino environment and a major touch point for players to engage with, was one of the innovative ideas the team at UNIFY VSN got inspired by.
The 'Holographic Croupier' setup was built around the HYPERVSN SmartV Holographic Human solution, showcasing an elegant croupier lady in the digital form: "We were able to programme 'her' to take commands on the game state of a roulette wheel, to create an event on the solution," Wood explains.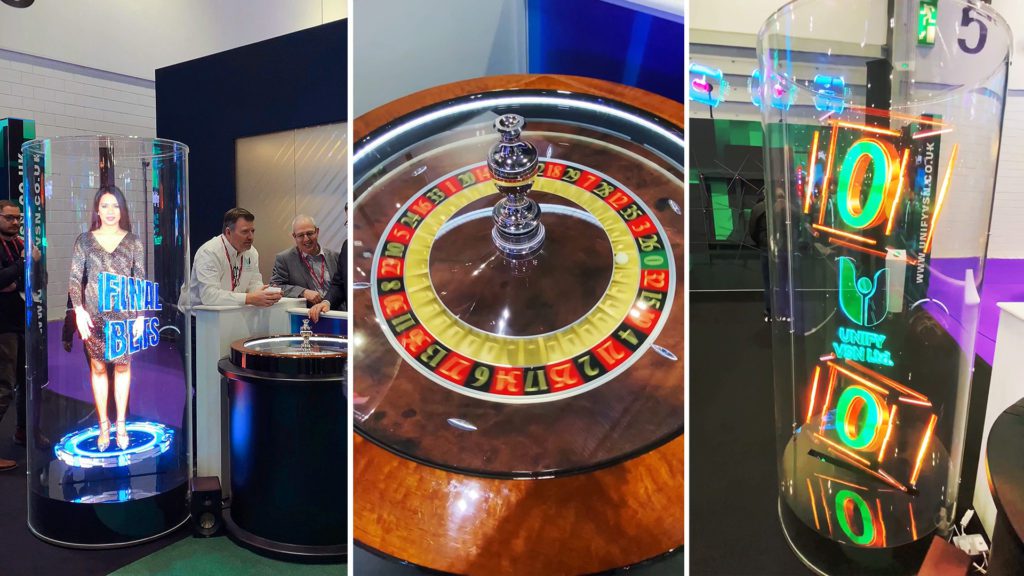 For example, when an automated roulette wheel begins to spin, this will trigger the holographic Сroupier to ask players to place their bets. That moment was connected to the ball spinning at 10 mph. Therefore, special added sensors allowed the Croupier to properly fulfil functions that a real person does, providing guidance through the game; 'She' says Final Bets when the ball slows to 7 mph and calls out No more Bets when it drops to 5 mph: now it's only won or bust.
To fully complete the round, once the ball lands in a pocket, the holographic display shows the number hit. The Holographic Croupier, thought out to the last detail, was a great showcase of how technology helps both improve service reliability and create an environment which lures people to spend time in it.
The Interactive Card Table
Unleashing HYPERVSN possibilities even further, the team also created an interactive table games experience at the exhibition which was loved by many. "We did this by using a blackjack table which is a familiar sight to every casino operator and visitor, we built in a range of interactions," says Wood. This included RFID tokens which were connected to poker chips, which triggers the content on the holographic displays when they are placed down.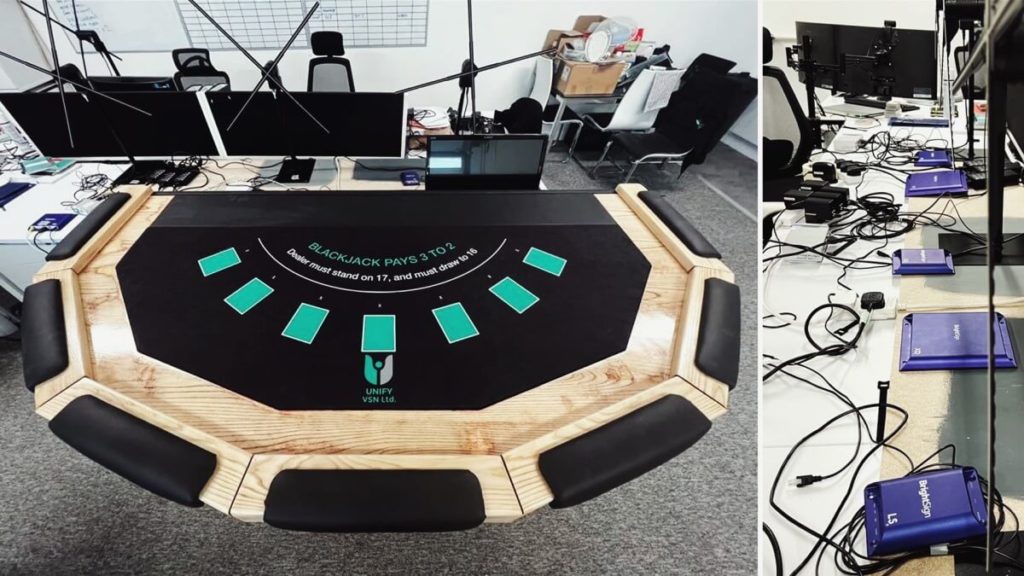 For messaging, a 12-unit HYPERVSN SmartV Wall as well as individual Solo displays were installed, with a football match being streamed on the Wall.
Back to the Table, there was also a presence sensor underneath the table in demonstration; once a player was seated, the hologram would change from 'seat available' to 'table full'. Alongside these sensors there were push buttons, light and colour sensors as well as an air button, with each of these different interactions triggering bespoke, specific content to that event or moment.
The Visitor Response at ICE 2023
"We received incredible feedback at the event itself," Wood went on to say. "Many people left in awe of the way UNIFY VSN had integrated the holographic human into the casino world. Regarding response since the event, we have had a large number of people get in touch about installing a holographic croupier for their casino. With many of these currently in the works not just in the United Kingdom, but globally too."
Looking to the future, he continued, "We at UNIFY VSN really believe that this is the future regarding visual solutions, in not just the casino industry, but many other industries as well, especially after hearing the feedback that the crowds at ICE gave us. It creates a never-seen-before interactive experience that is proven to increase revenues and footfall. So why wouldn't you implement this technology?"
What's Next
The gambling industry is expected to keep growing in 2023, industry experts say, citing leading European associations to have predicted an average increase in market growth of 7% and an increase in global gambling industry revenues of 34%. Holographic technology with smart integrations like chat bots, AI, voice and gesture control shape everything from how individuals place bets to the way they interact with staff. HYPERVSN solutions can help brands break the interactivity limits and take gamification to the most innovative dimensions possible.
The future is bright, and definitely holographic.
Join our mailing list to keep up with the latest HYPERVSN news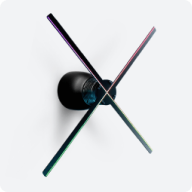 HYPERVSN 3D Catalog
USD 1,200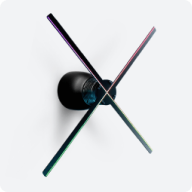 HYPERVSN 3D Catalog
USD 1,200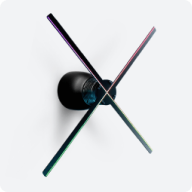 HYPERVSN 3D Catalog
USD 1,200