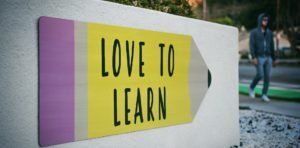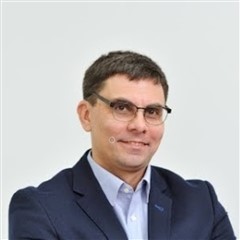 Dmitry Shatkov
Ecommerce Manager
Holographic Humans for Corporate, Public and School Inclusive Initiatives
05 May 2022 • 7 min read
Nowadays leading international companies, in addition to maximising their profits, feel more and more capable of bringing about a positive change to society. Businesses introduce more inclusive practices into the way they operate and help create inclusive environments at their offices and beyond.
With the help of the latest technology, it can be done all the more efficiently. In the below article, we will look at the issues hearing-imparedpeople currently face and into the ways technology like ours can help address these issues resulting in greater inclusivity.
As it was said in the Microsoft DOOH campaign that relied on the British sign language: "The more inclusive you are, the more innovative you can be. Together we can create a better and more accessible world for everyone," – and we at HYPERVSN stand by that.
Hearing loss in the globe
Hearing loss is a global problem. It affects a large part of the population in developing countries, but it is also acute in the US and Europe. According to WHO, currently, more than 5%, or 430 million, need to address their disabling hearing loss* and the number is expected to keep growing.
* hearing loss greater than 35 decibels (dB) in the better hearing ear
Here're the two most common issues deaf people and people with hearing loss face:
Announcements at public places. Since they're audio primarily, such people can easily miss urgent safety or last-minute schedule announcements;
Communications in the dark is problematic;
Holographic Humans: assistive devices for deaf people
Holographic Humans can be of great help to deaf people almost everywhere, in the places they live, work or study.
Alerting systems
Deaf people and people with hearing loss often face safety issues in public places and at home. Holographic Humans is an excellent alerting solution for both those situations. They can help deaf people stay connected and safe as bright and conspicuous visual alerting systems.
Connecting Holographic Humans to public announcement systems or home appliances, such as fire detectors, doorbells, phones, baby cry signalers, can either alert or notify deaf people about various events.
Instant Messaging
Holographic Humans, connected to phones or laptops, can also be used as displays for instant messaging in face-to-face or telecommunications.
Video chats
In addition to text messaging, you can also use them for video chats and remote meetings.
Holographic Humans at work
Making working spaces friendly to deaf people is an example of an inclusive initiative beneficial for both the company and employees. In addition to hearing loops or personal devices as voice amplifiers possibly available in your office, you can also use HYPERVSN Holographic Humans to accommodate your working space with:
noticeable sign language personal assistants;
alert or notifications displays;
real-time captioning systems;
visual ads and chart displays.
Holographic Humans in public places
Deaf people in public places face all the same challenges they face in offices or at schools: accessing information, navigating the venue and communicating with staff. Holographic Humans can facilitate all of them.
Visual and text information
Using any HYPERVSN devices and solutions, including Holographiс Humans, you can brightly display your working hours or highlight points of interest in the venue.
Navigation signs
You can use HYPERVSN devices as vivid navigation signages or interactive map displays.
Sign-language assistants
Holographic Humans can replace real people as sign-language interpreters. They can welcome and guide deaf people to halls and venues, promote the dish of the day, or provide any other information.
Our South Korean partner, COSWEAL, installed a 9-unit HYPERVSN Wall for Korea Communications Commission at the event to promote Comprehensive Plan for Media Inclusion for the Underprivileged. The aim was to show and attract media attention that innovative solutions can be used to achieve progress on social inclusion be it at the events, or in schools.
Human Holograms for deaf schools
The students born deaf or ones being deaf since their childhood differ significantly from students who lost hearing at an older age. Their English vocabulary can be limited, and due to this reason, they often prefer visual learning, which is quite challenging for educational strategies where most of the information is provided exclusively by word of mouth.
In this case, sign language interpreters would be of great help. Sign language translation by real people is quite expensive. It is much cheaper to use recorded translations. And, using Holographic Humans by HYPERVSN for such translations is a great way to improve the educational process and let deaf people feel comfortable during the lectures.
As an assistive technology for deaf schools, Human Holograms can offer certain valuable advantages.
Keeps students attention
HYPERVSN is an innovative technology, which always arouses lively interest and increases attention. The similarity of Human Holograms to an actual person makes getting used to the new solution as smooth as possible.
Allows you to work in darkened places
Human Holograms remove the problem of dark places since the produced image looks bright even in the sun, saying nothing of some darkened rooms.
Facilitates steady sight
In contrast to laptops, it does not require moving eyes from the blackboard to the desk and back. Placed right next to the blackboard, Human Holograms allow students to keep their gaze on both the lecturer and the device simultaneously.
It does not require a specific seating scheme
The human-like size of the solution allows most of the students to see the translation with no visual barriers regardless of their places in the classroom.
You can use it as a display
Not only to translate lectures, but fine pixel-pitch also allows you to display small texts often accompanied by explanatory images both visible from a long distance.
Thus, using the HYPERVSN Holographic Human solution facilitates the whole process considerably. It eliminates many visibility issues, allows you to reduce the perception gap of deaf students in mixed classes, provides the additional benefits typical for bright 3D displays, and smoothens studies in general.
Go with your ideas
The idea of using Human Holograms in deaf schools, at work and in public places is only an example of many possible inclusive initiatives available nowadays where innovations help build a better world for all people.
Join our mailing list to keep up with the latest HYPERVSN news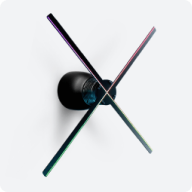 HYPERVSN 3D Catalog
USD 1,200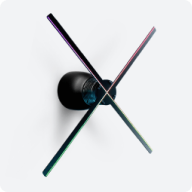 HYPERVSN 3D Catalog
USD 1,200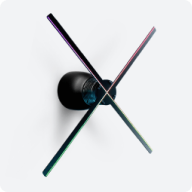 HYPERVSN 3D Catalog
USD 1,200