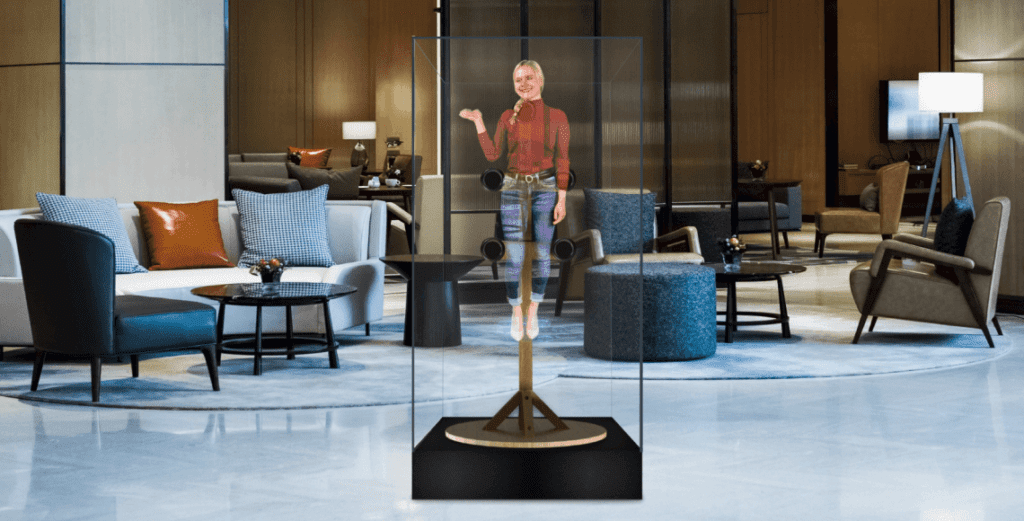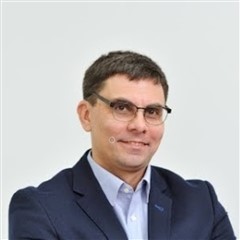 Dmitry Shatkov
Content Manager
HYPERVSN 3D Holographic Visuals for HoReCa and MICE Industries
25 September 2020 • 5 min read
Being a bit more traditional than other industries like fashion or retail, hotels are now being forced to keep up with the latest hospitality trends in their attempt to win over new guests and maintain brand loyalty.
Today, there are more than 700 000 hotels worldwide with more than 16 million rooms. Quite impressive, isn't it? What's even more impressive is that those numbers increase annually. For instance, in the US, the number of hotel rooms increases by over 650 000 a year!
With figures like that, hotels need to find a way to stand out and stay relevant. A decade ago, digital signage was first introduced as a display solution in the most innovative hotels, ten years later, and hotels around the world are fighting to be top of mind when it comes to next-level innovation.
The mere sight of indoor digital displays is not enough anymore. Guests are looking for cutting-edge experiences and five-star digital service. HYPERVSN is providing just that, taking digital innovation a step further. Instead of traditional LED displays, HYPERVSN produces 3D holographic visuals that appear to be floating in mid-air. Can you imagine the impact these visuals can create in a hotel? Futuristic interiors, showstopping displays and innovative ways to communicate with guests.
Holographic digital signage at entrances and check-in areas
You only get one chance to make a first impression and guests start making theirs from their very first steps inside a hotel. Entrances, lobbies, and check-in desks are the perfect opportunity to win over clients and impress from the get-go.
How could anyone forget the hotel they stayed at that welcomed them with stunning 3D visuals? Or the guest information they read from a holographic display?
Holographic humans aboard the Tallink Megastar Cruise Ship
What better way to make an immediate connection with guests than with holographic humans welcoming them aboard? This is exactly what the Tallink Megastar Cruise Ship did when they used a HYPERVSN Wall (mounted in the vestibule of the ship) to create a holographic visual of the ship's captain. The 3D content of the captain welcomed guests, displayed the best deals and offers available and gave directions and emergency notices.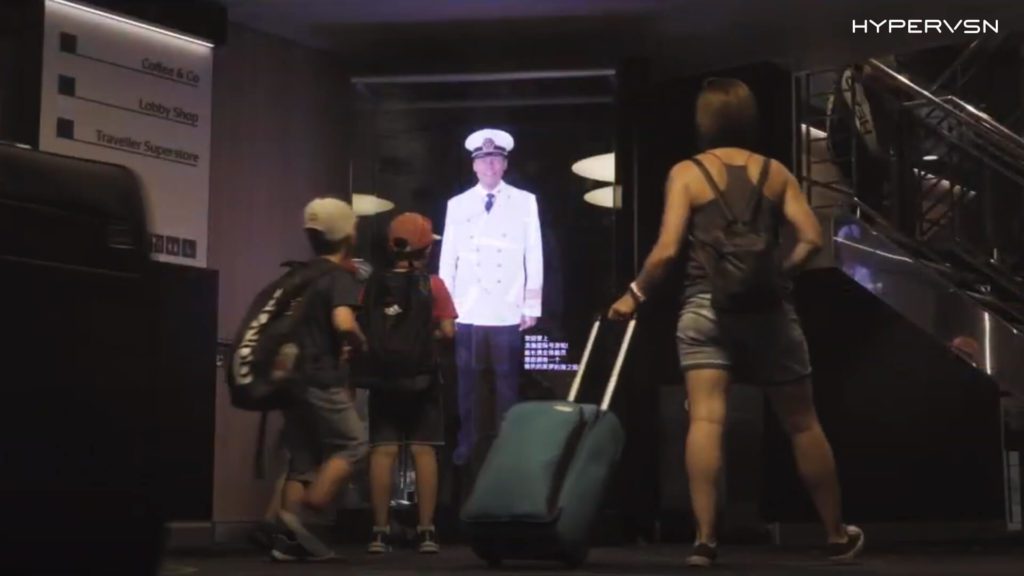 This innovative idea amazed all the ship's passengers, especially the children. Here you will find a short video that brings the installation to life.
Holographic information points
Another great way to entertain guests and provide visitors with valuable information is to create holographic information points that allow guests to interact with 3D holographic visuals. Think of the possibilities of interactive 3D technology – holographic wall-sized hotel guides that you can flick through with a simple swipe of your hand.
3D Product catalogs by HYPERVSN
HYPERVSN 3D Catalog offers guests an exciting way to learn more about hotel amenities or any other valuable information. First presented at CES 2019, this solution has been used by HYPERVSN clients across the globe with great success.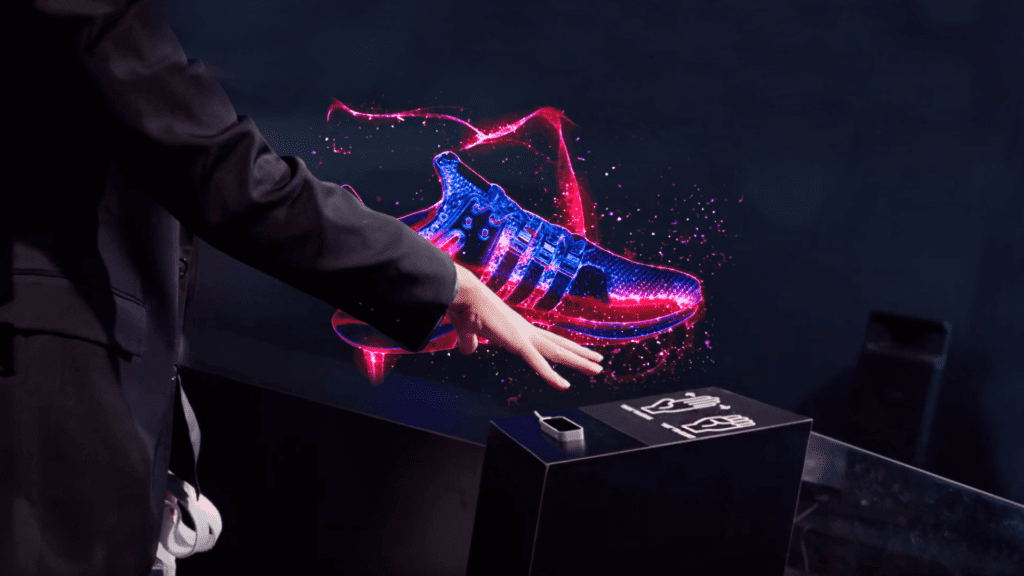 3D catalogs are suitable for any kind of hospitality information, including transport schedules, tourist maps, discount guidelines, etc.
3D holographic advertising
Digital signage used for advertising and promotions are the most obvious and straightforward ways to use HYPERVSN holographic technology. Hotels can promote their brands, loyalty programs, extra services and package deals on disruptive holographic displays.
HYPERVSN Walls at Roland Garros
HYPERVSN solutions are the ultimate source of amazement for any branding initiative. They turn heads, bring attention and promote any product or service in the most innovative way possible. Below you can see how Moёt Hennessy installed a six-unit HYPERVSN Wall into the private interior space at Roland Garros.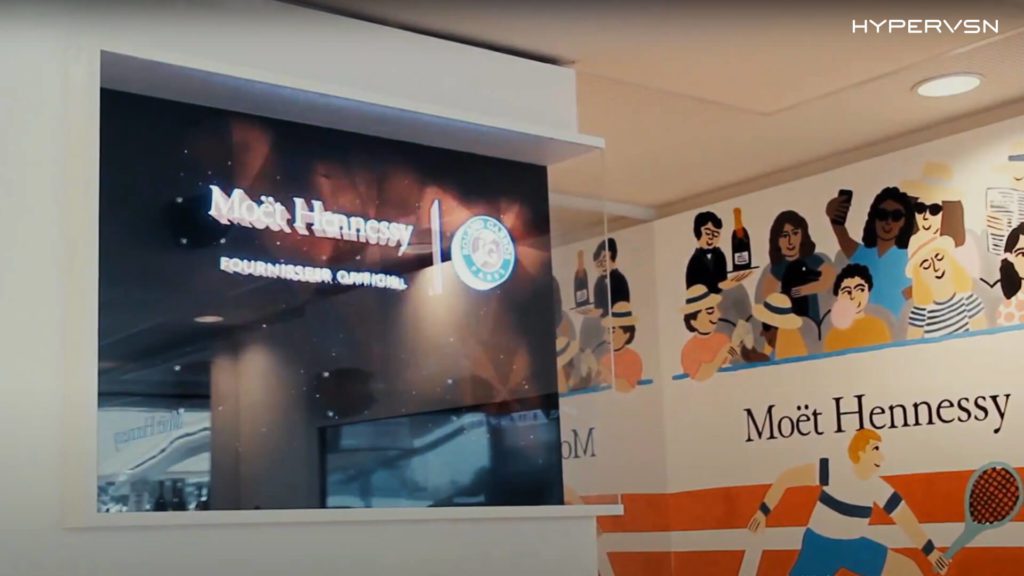 Holographic devices at conferences and trainings
HYPERVSN is perfect for studies and entertainment. It is an incredible 3D holographic display system for teaching or demonstrating ideas, items or procedures. Hotels can install HYPERVSN Walls in meeting rooms and allow presenters to enhance their presentations with eye-catching 3D content.
When it comes to education, 3D holographic visuals have a distinct advantage over 2D images. 3D content allows users to demonstrate complex subject matter in 3D, which is especially advantageous for seminars, training, case studies, and scientific conferences.
HYPERVSN training seminar
At HYPERVSN we successfully use our holographic solutions for training our teams and partners. You can see an example of this in the video below of our SEA partner training seminar in Malaysia. The seminar was held in PARKROYAL, Kuala Lumpur, Malaysia.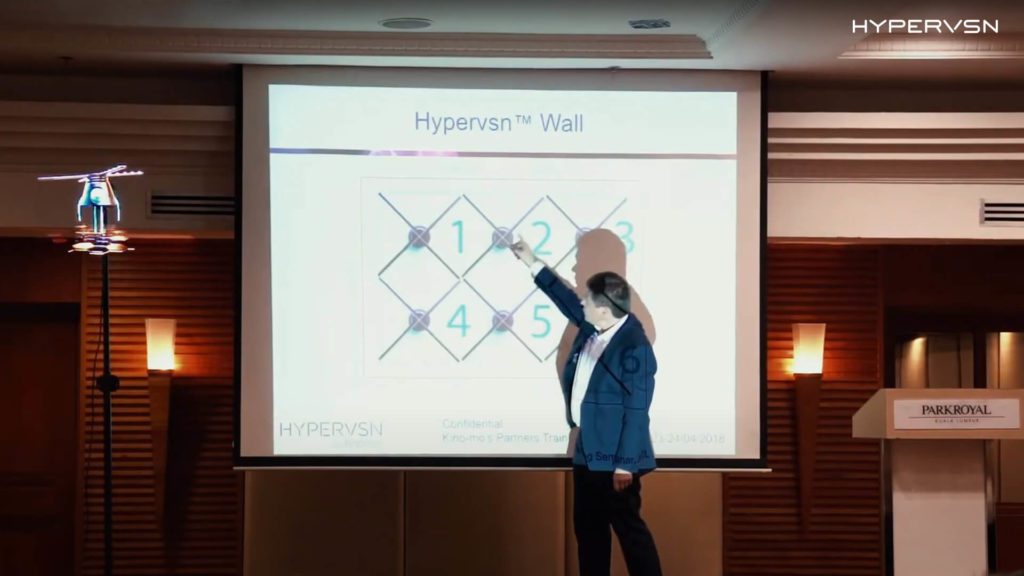 HYPERVSN 3D Modeler
If you really want to impress your audience or students with the future of 3D technology, we offer HYPERVSN 3D Modeler. This interactive holographic solution allows users to decompose holographic visuals with simple gestures. This solution is ideal for engineering and medical conferences where complex 3D objects need to be carefully examined e.g. a human heart or a car engine.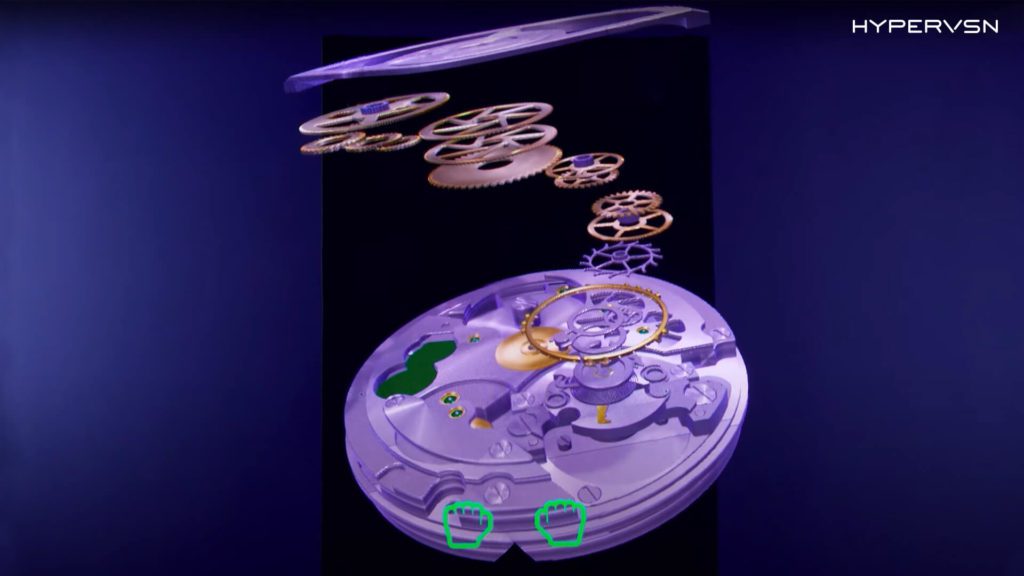 Having fun with HYPERVSN
The phrase "Hospitality should include fun" is a slogan that hotels need to adopt if they want to corner the market. Today, members of Generation Y still can't imagine life without computer games. According to the ESA, Millennials are the largest (29%) segment of all gamers worldwide. Consequently, hotels with game rooms are more attractive to this target audience and all other computer game lovers.
3D holographic gaming
HYPERVSN presented the world's first holographic gaming solution at CES 2020. Puzzle games in 3D that are played with utter realism and immersion are certainly going to become an emerging trend for any hotel fun zone.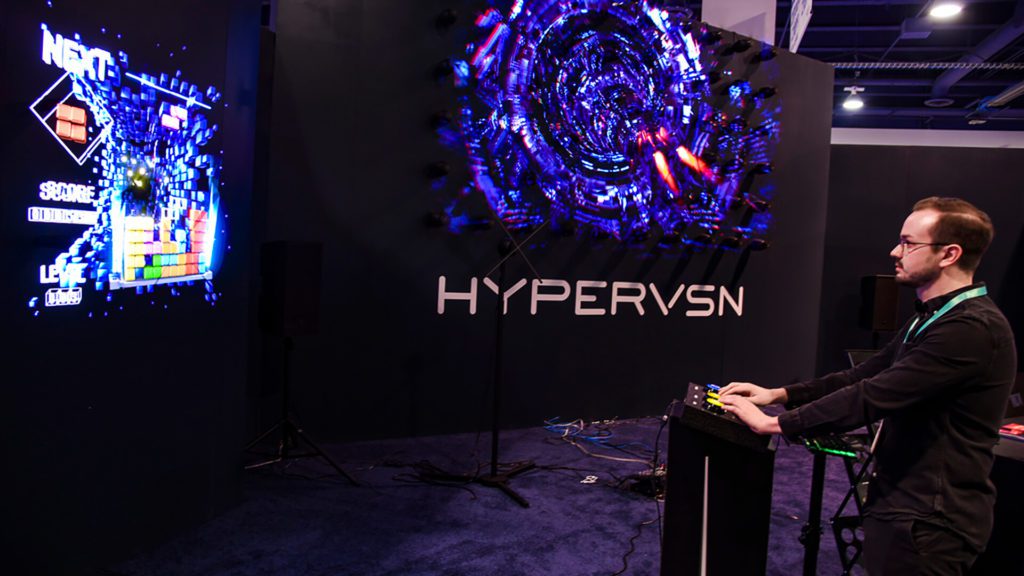 What have we discovered so far? HYPERVSN holographic visuals used for digital signage, advertising, demos or training sessions allow hotels to make themselves known as original and innovative market players.
Please visit our website for more information about HYPERVSN solutions for hotels or ask us any other questions about our 3D technology and its business advantages.
Give your guests an experience they'll never forget!
Join our mailing list to keep up with the latest HYPERVSN news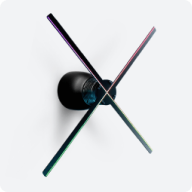 HYPERVSN 3D Catalog
USD 1,200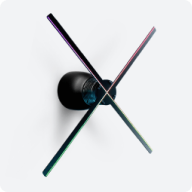 HYPERVSN 3D Catalog
USD 1,200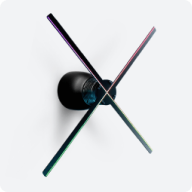 HYPERVSN 3D Catalog
USD 1,200